The Donatella Cinelli Colombini estate in the heart of Tuscany brings together the historical Fattoria del Colle property with a Casato in Montalcino, whose 16 hectares of vineyards are home to some of the region's best Sangiovese. Inherited by Donatella through a line of female ancestors, the Casato Prime Donne has become Italy's very first all-female winery, where exquisite Brunello di Montalcino DOCG wines are crafted with a feminine touch. Learn more about this revolutionary estate and discover their award-winning range.
Donatella Cinelli Colombini: A Historical Property with Family Heritage
The ancestors of Donatella Cinelli Colombini, an important Sienese family called the Socini, first began to build the Fattoria del Colle in the commune of Trequanda back in 1592. During the protestant Reformation, Lelio and Fausto Sozzini were excommunicated by the Church and all of the family's properties, including Fattoria del Colle, were seized. Almost three hundred years later, in 1919, the property returned to the family when Donatella's great-grandfather, Livio Socini, purchased it. In the time that passed between, the villa was enlarged to make it more comfortable for noble hunters, who used it as a hunting lodge. It was also frequented by Peter Leopold of Hapsburg, First Grand Duke of Tuscany and Emperor of Austria, locally known as "Don Juan," as a secret meeting place with his lover Contessina Isabella, known in the region for her beautiful black hair. Their bedroom, decorated with a colourful fresco on the ceiling, is available today as the honeymoon suite for weddings held on the estate. Fattoria del Colle is now home to 17 hectares of vines, along with a country inn, a restaurant, a fitness centre, cooking school, gardens and three swimming pools - the perfect lodging for those visiting the wineries of the region. The most historical part of Fattoria del Colle, still visible today, is the hermitage located in the cellar, which was referred to in the Decimari of the 12th and 14th centuries as "Ermitorium S. Egidii of Querciola."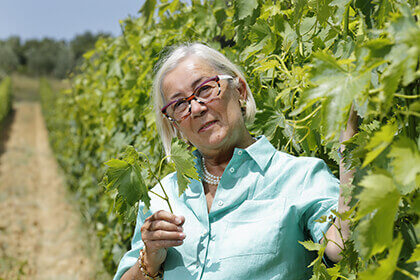 The Casato property in Montalcino already belonged to the family in 1592, and was passed down from father to son until Donatella's grandmother inherited it. From that point on, the property would follow a matrilineal line, inherited by the women of the family. At the beginning of the twentieth century, this property was used for hunting. Donatella Cinelli Colombini inherited the Casato in Montalcino and the Fattoria del Colle in 1998, and she decided to bring together these two properties to form a new 370-hectare estate, to which she lent her name. Thus, Casato Prime Donne was born. Shortly after, Donatella began a great investment program, replanting 33 hectares of vineyards. In 2001 and 2002 the wineries at Fattoria del Colle and Casato Prime Donne, respectively, were inaugurated.
Donatella Cinelli Colombini: Italy's First All-Female Winery
Back in 2002, Donatella Cinelli Colombini was searching for a winemaker for her new winery, the Casato in Montalcino. She contacted the director of an oenology school in Siena, known for training some of the most talented winemakers and vineyard managers in Tuscany. Donatella was surprised to learn that, although there were no male graduates of the school available, some of the top students in the class had not been able to find employment because they were women. The situation prompted her not only to hire a female winemaker but to hire exclusively women to work in the Casato Prime Donne winery. This revolutionary decision was Donatella's response to the discrimination against women that she witnessed in Tuscany, where winemaking has historically been a male profession. Cellar Master Barbara Magnani and French Oenologist Valerie Lavigne work together with Donatella to create truly masterful wines. The property has, in fact, taken the idea one step further by creating a special Prime Donne selection of wines, which is made by eight women. These wines are chosen each year by a tasting panel of four leading women in the wine industry - Master of Wine Rosemary George, German wine expert Astrid Schwarz, award-winning Italian sommelier Daniela Scrobogna and Italian-American Founder of a wine PR company Marina Thompson. By entrusting the creation of beautiful DOC and DOCG wines to a team of female winemakers, Donatella hopes to offer women the types of opportunities that have historically been withheld from them by Tuscany's male-dominated winemaking community.
Donatella Cinelli Colombini: The Wines of Casato Prime Donne
The all-female Casato Prime Donne winery, located in Montalcino, is dedicated to the vinification of the estate's Rosso di Montalcino and Brunello di Montalcino wines. The fruit is harvested from 16 hectares of Sangiovese vines within a property expanding over 40 hectares in total. The wines are not aged in barriques, but in 7-hectolitre French oak casks for 2 years and then in 15-40 hectolitre barrels before ageing in bottle.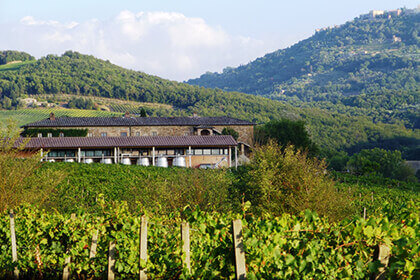 This combination of various ageing techniques brings out the very best in the Sangiovese, making for a beautifully harmonious and elegant wine. Specifically, the Casato Prime Donne winery produces five stunning Sangiovese wines: the Rosso di Montalcino DOC (aged for 1 year in oak), the Brunello di Montalcino DOCG (coming from 6 small vineyards in a 10-hectare area surrounded by a stone structure and aged at least 2 years in oak casks and barrels), the Brunello di Montalcino DOCG Riserva (which spends three and a half years in oak), the winery's prestige cuvee, the Brunello di Montalcino Prime Donne Selection (created by women and aged for two and a half years in large oak barrels) and finally the Brunello di Montalcino IOsonoDONATELLA (very rare, only 600 bottles).
Tinaia del Vento | Experimentation with Indigenous Yeasts by Donatella Cinelli Colombini
The Tinaia del Vento winery is located in the vineyards of Casato Prime Donne in Montalcino. The project began as a collaboration between Casato Prime Donne and a Verona-based company named Oliver Ogar, specialising in the study of biodiversity and new strains of indigenous yeasts in Italy. The winemaking area is open on all four sides in order to allow the must to oxygenate naturally, as was once traditional in the old wineries of the area. The winery is home to open-topped stainless steel vats with a truncated-cone shape, equipped with heating and cooling systems. A mechanical arm pushes down the grape skins, allowing for a pump-free vinification. This winery uses exclusively autochthonous yeasts, naturally found on the grape. Certain yeast strains selected from a natural micro-vinifications carried out at Casato Prime Donne in 2007 have been used in an experiment during the 2008 harvest to create 50 hl of Sangiovese Brunello, which ages in 5 hl tonneaux. The use of these indigenous yeasts reflects Donatella's vision to go back to the traditional ways of working with nature.