Cabernet Sauvignon: The History of a Historic Grape
Easy to grow, Cabernet Sauvignon owes its popularity to its thick skin, which makes it resistant to high temperatures and rot. It can be grown nearly anywhere and contributes an unmistakable structure and balance to the wine. Generally speaking, this varietal offers aromas of red fruits (blackcurrant or black cherry), along with the occasional black pepper or violet. The thick skins of Cabernet Sauvignon grapes make for full-bodied wines with lots of colour pigments and tannins, designed to be aged in the bottle. As it ages, Cabernet Sauvignon wines reveal more complex aromas of blackcurrant, violet, cedar, spices and even cigar boxes. One of the most notable characteristics of Cabernet Sauvignon is its affinity for oak, whether during fermentation or in barrel ageing. This contact with wood not only softens the tannins of the wine but also brings complexity by adding aromas to the already present notes of black fruits.
Though arguably the most famous grape variety, Cabernet Sauvignon is not one of the oldest grape varieties in the world. History can trace Cabernet Sauvignon back to the 17th century, which is relatively new in the wine world. In 1977, professors at the University of California Davis confirmed that Cabernet Sauvignon was a cross between the red grape Cabernet Franc and the white grape Sauvignon Blanc - thus where it gets its name. Indeed, in Cabernet-Sauvignon we find the typical aromas of these two grape varieties: the influence of blackcurrant from Cabernet Franc and the vegetal notes of Sauvignon Blanc.
Hailing from France, Cabernet Sauvignon is now well known as an international variety. It is widely planted and can be found in most of the major wine producing regions. Because of this, it also has widespread appeal. Cabernet Sauvignon is considered one of the most balanced and full-bodied wines in the world. It was one of the main grape varieties that helped colonized the wine world, as it had an ability to be grown in most environments.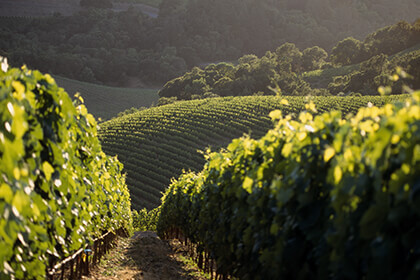 Although Cabernet Sauvignon is best known for its role in Bordeaux blends, it gained popularity as a single varietal wine after the 1976 Judgement of Paris. Before then, the very best wine was from France, however the 1973 Stag's Leap Napa Valley Cabernet Sauvignon wine beat out the top French wines in a blind tasting at the Judgement of Paris. From this, California wine country was put on the map, but it also opened up the door to explore the range of this beautiful variety and how other wine regions produce Cabernet Sauvignon.
The Range of Cabernet Sauvignon and where it Finds its Roots
The Cabernet Sauvignon grape is small and has thick, dark skin; it grows in nearly all wine growing regions and is adaptable to different soil types and climates, including colder regions, like Ontario, or warmer areas, such as Argentina. Although the grape can grow just about everywhere, Cabernet Sauvignon thrives in warmer climates with poor, deep gravel soils.
Two prime examples of the best conditions in which to grow Cabernet Sauvignon are Bordeaux, specifically the Médoc and Pessac-Léognan areas, and Napa Valley. In these areas, the wine exhibits the classic characteristics of a deep, ruby colour with aromas of blackcurrant, dark spices and cedar wood. The wine also typically has moderate acidity with good tannin structure allowing it to age remarkably well over several years or even decades.
Another prominent area producing lovely examples of Cabernet Sauvignon is Tuscany, where wine producers create a blend of native grapes with the International grape varieties including Cabernet Sauvignon for what is called "Super Tuscans." In Tuscany, Cabernet Sauvignon offers mellow wines with notes of ripe black cherry and strong flavours of blackcurrant.
All around the world Cabernet
As Cabernet Sauvignon is the most planted wine grape in the world, various styles are to be discovered.
Bordeaux offers great wines. The best sites are located on gravel hills that drain water and retain heat to facilitate maturation. Bordeaux's oceanic climate is ideal because the autumns are long and warm. Young Bordeaux wines can be quite harsh, but with age the tannins soften and the aromas of black fruits evolve towards more complex vegetal aromas of tobacco and cedar.
In California, Cabernet Sauvignon is the most planted grape variety. The grape variety has different styles depending on the soil and climate in which it is grown. Indeed, in Napa, mountain vineyards have fine and less fertile soils. The grapes are smaller but the aromas are more intense. The harvests are significantly lower than in the rest of California. Cabernet Sauvignon wines grown in California tend to be more delicate with a dark colour and aromas of blueberry, blackberry and oak. The wine is generally structured with ripe and melted tannins. In the same way as in Bordeaux, they require years of ageing to reach maturity. Oak is used for the ageing. Cabernet Sauvignon from the Napa Valley make part of some of the world most prestigious and sought-after wines. Washington State is also becoming a more prominent region for the variety.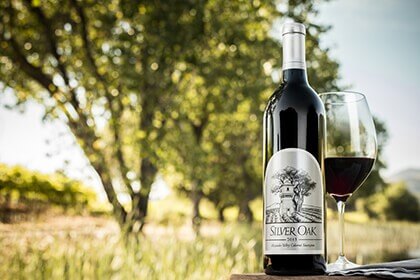 Chile also produces beautiful Cabernet Sauvignon similar to the Bordeaux style, as the cooling breezes of the Pacific Ocean and the protection of the Andes Mountains create a great growing environment. In Chile, Cabernet Sauvignon is particularly influenced by the terroir. In the Maipo River Valley in Central Valley, Cabernet Sauvignon brings red fruit aromas. In warmer areas such as Colchagua Valley, the grapes have a longer maturation time and then offer a richer wine with less acidity and tannins.
Cabernet Sauvignon is very different in the regions of Australia. Indeed, the wines of the Coonawarra region are particularly intense and structured, with aromas of blackcurrant, black fruit, mint and eucalyptus. It was Coonawarra that earned worldwide recognition in the 1970's for its Cabernet Sauvignon. Everywhere else in Australia, the style is very heterogeneous. The Barossa Valley produces structured wines. On the contrary, the Clare region offers fruitier Cabernet Sauvignon. And finally, in the Yarra Valley, wines can be tasted with an amazing balance of acidity, tannins and fruit. Cabernet Sauvignon is the second most planted grape variety in Australia after the Shiraz with which it is frequently blended.
Due to the climate, producing Cabernet Sauvignon in New Zealand can be a difficult endeavour. Hawke's Bay is known for its production of Cabernet Sauvignon. However, the wine offers pronounced vegetal notes, influenced by the rainy oceanic climate and fertile soil. Thus New Zealand mainly uses Cabernet Sauvignon in blends with Merlot to compensate for the lack of sunshine. Most of the ageing is done in barrels as in Bordeaux.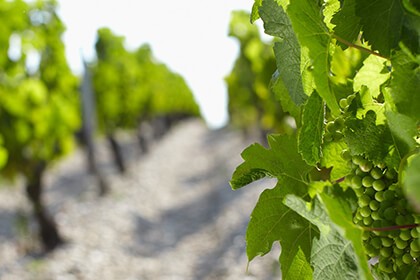 In South Africa, Cabernet Sauvignon can be cultivated to produce single varietal wines as well as blends. For the blends, some producers follow the Bordeaux example with Merlot, while others follow the Australian model of a Cabernet Sauvignon and Syrah blend. The weather also has a significant influence on the type of wine produced. In cooler regions, the wine reveals herbaceous aromas with notes of green pepper. In warmer regions, protected from the freshness of the ocean (as in Stellenbosch), the wines are more robust. Levels of tannins are high. The Constantia region produces more herbaceous and mentholated wines. Cabernet Sauvignon remains the most planted grape variety in South Africa.
Cabernet Sauvignon: A Nice Blending Partner
The grape variety's popularity and structure allow Cabernet Sauvignon to be an ideal blending partner for most wine growing regions. Tuscany has mastered blending Cabernet Sauvignon to create beautiful, well balanced wines, but the art of blending is a particularity of Bordeaux wines. The blends are made with the sole aim of seeking quality, finesse and nobility. Indeed, each Bordeaux grape variety has its own characteristics, acquired during its growth and maturation. Thus, the blend promotes the complementarity of the qualities specific to each grape variety and each terroir. It creates a more complex, harmonious and balanced wine with a powerful structure and deep flavours.
One of the best-known pairs is Cabernet-Sauvignon with Merlot. In fact, the majority of Bordeaux Blend wines are often made exclusively from a blend of these two varieties. In Bordeaux, there are two types of this traditional blend. The Left Bank (Médoc and Graves) is dominated by Cabernet Sauvignon, and in the Right Bank (Saint-Émilion and Pomerol) Merlot prevails. Cabernet Sauvignon offers acidity, herbal and black fruits flavours along with a mid-palate texture (tannins) that finishes on an oaky note. Merlot, on the other hand, adds body, texture and smoothness, which soften the acidity and level of tannins of Cabernet Sauvignon.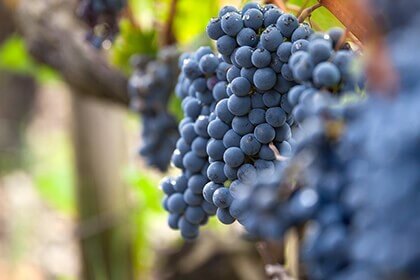 The Merlot, Cabernet Franc, Cabernet Sauvignon wines trio is also a well-known classic when it comes to the famous blends of Bordeaux. Cabernet Franc brings more delicate red fruit nuances, but keeps a mouth as long as Cabernet Sauvignon. The blend with the other two grape varieties offers more complex wines with a dynamic finish and spicy aromas, such as pepper.
Other varieties such as Petit Verdot, Carmenere and Shiraz have been used in blends with Cabernet Sauvignon to create beautifully complex red blends.
Food pairing
Due to its structure and high-level of tannins, Cabernet Sauvignon wines are great to pair with rich meats, such as beef or lamb. Dishes with structure and strength will be preferable. The different styles of Cabernet Sauvignon wines can also influence the pairing. For instance, the earthy notes of a Bordeaux blend will perfectly pair with mushrooms. Cabernet Sauvignon with herbaceous notes will be well-balanced with vegetables.