The United States is the world's fourth biggest wine producing area, after France, Italy and Spain. Wine has been made in the United States for around 400 years, but only recently in the past 40 years has the United States become one of the most prominent wine areas in the world. All 50 states produce wine to some extent, but most of the production of American wines comes from four major states. California is by far the most popular and largest wine producing area, accounting for nearly 95 percent of production in the United States. Washington, Oregon and New York make up the other major areas of wine production, while Texas and Virginia are gaining popularity, but mostly from consumption within their own states.
The Colourful History of American Wines
When Europeans first came to America they saw the diversity of indigenous vines but soon realised the stark difference from the vitis vinifera vines that are grown in Europe. Settlers even tried to bring cuttings of un-grafted vines from overseas, but due to phylloxera, the vines did not survive. In order to produce popular wines such as Cabernet Sauvignon or Chardonnay in the United States, the vine cuttings of vitis vinifera had to be grafted onto a well-established American rootstock to ensure that it would not be impacted by any diseases. New hybrid grape varieties (crosses between a vitis vinifera and American grape varieties) have also been made and are successful in American viticulture.
The United States wine industry has experienced both great success and extremely difficult times within its short history. During the 1840's, around the time of the California Gold Rush, wine was in massive demand, which led to wineries expanding their vineyard lands. However shortly after the spike in demand for wine came Prohibition for 13 long years, economic depression and war. Faced with this triple threat, nearly all wineries were forced to shut down. Although there were many loopholes within prohibition, such as making wine for personal consumption, the very few wineries that did not close made sacramental wine for Church services. It wasn't until the 1970's that winemaking in the United States was brought back to life and interest in the quality of American wine began to grow again.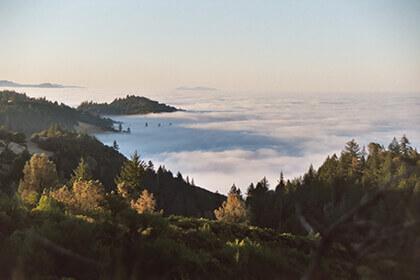 The Viticultural Areas Producing American Wines
Much like every other wine region in the world, the United States has many different designated grape growing appellations. These areas are approved and classified by the American Viticultural Area (AVA) system. The idea of an AVA is to delineate a distinctive geographical area and display the terroir of each area. The first AVA established in the United States was the Augusta AVA in 1980 located in Missouri. Shortly thereafter, the Sonoma Valley AVA was established. An AVA can range in size - the largest AVA in America spans across four states and contains 19 million acres, whereas the smallest is a mere county of 60 acres. Some AVA's can also be located within a larger AVA and their wines can be labelled with either territory name. The benefit of having smaller AVA's within larger ones is the possibility to show the difference in terroir, as well as how this difference impacts the grapes and the resulting wine. It allows for a signature style similar to when you think of great French appellations, such as Sancerre or Pomerol.
American Wines from California
The California wine region needs no introduction when talking about American wines. Accounting for nearly 95 percent of the country's wine production, this state produces a wide range of wines from the more unexpected varieties, like Riesling and Gewurztraminer to the classic Chardonnay, Pinot Noir and Cabernet Sauvignon. California has ideal growing conditions, with a maritime influence from the Pacific Ocean and a great variety of soils for plenty of exciting and well-known wines from the area. The most notable areas within California are Napa Valley and Sonoma which create larger-than-life California Cabernet Sauvignon and big bold Chardonnays. However the state has come a long way in innovation- and terroir-driven wine, allowing the flavours and characteristics of a grape shine through. The diversity within this state allows for its popularity for American wines.
The 1976 Judgement of Paris put California - specifically Napa Valley wines - into the spotlight, as wineries including Chateau Montelena were scored higher than Burgundy and Bordeaux wines in a blind tasting. Due to Napa Valley's wide range of terroir, there are 16 other AVAs within the 30 mile stretch of land and a diverse selection of varieties. Known mostly for their Cabernet Sauvignon, each AVA has plenty of range from this grape. Cabernet Sauvignon grapes growing on rolling hills closer to the Mayacamus and Vaca mountains have more of a savoury smoky characteristic, while the Cabernet Sauvignon grapes on the valley floor between the mountains are richer with more blackberry and cooked fruit flavours. Earthy and smooth Merlot, herbaceous and fruity Sauvignon Blanc, rich and jammy Zinfandel, peppery Cabernet Franc and of course the lovely Chardonnay all grow very well in the different microclimates of Napa Valley.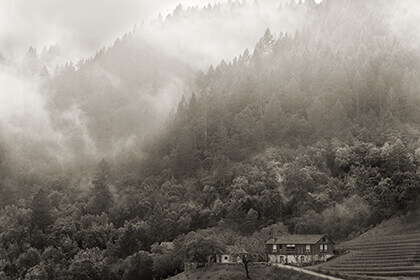 Nestled between the Pacific Ocean and neighbour Napa Valley, Sonoma County has produced some of the most famous Pinot Noirs and Chardonnays from this great area. The region ranges from fog-covered valleys to sunny hillside vineyards allowing for both cool and warm climate grapes to thrive in the area. Russian River Valley and Los Carneros have the greatest cooling influence from the Pacific Ocean and San Francisco Bay allowing for warm days and cool nights. This is known as a diurnal shift and allows for the grapes to ripen slower and more consistently retain a balance of acid and sugar. Some of the best Pinot Noir, Chardonnay and sparkling wines in California come from both the Russian River Valley and Los Carneros because of their ideal cool climate. While Chardonnay, Pinot Noir and Cabernet Sauvignon are the most prominent grape varieties in this area, Sonoma boasts over 60 grape varieties including Viognier and Sangiovese.
Beyond the classic Chardonnay and Cabernet Sauvignon, California is known for their Zinfandel wines. Accounting for nearly ten percent of California vineyards, this grape makes rich, fruit-forward and sometimes peppery wines often with a hint of earthiness. Zinfandel was brought to the United States from Europe in the early 19th Century and is identical to Italy's Primitivo grape. Zinfandel grapes ripen unevenly, even within bunches, allowing for both unripe and dried raisin-like berries to be on the same cluster! In the 1970's, producers started using the saignée method to create a rosé wine from Zinfandel grapes. This craze began the "blush" or White Zinfandel movement in the United States.
This wine was a massive success because of its sweet characteristic and affordable pricing, not to mention the fact that it was made in massive quantities. White Zinfandel, like oaky buttery Chardonnay had a huge impact on the California wine market. However, there is a vast difference between White Zinfandel and a quality made Zinfandel. The best Zinfandels offer lush, concentrated, spicy notes with a rich red fruit to match. The grape performs well in a hotter, dryer climate so the inland vineyards of Lodi or Paso Robles create excellent wines. Turley Wine Cellars is a lovely example of what a high quality Zinfandel can express.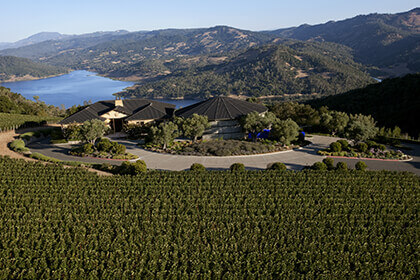 American Wines from the Pacific Northwest
Washington State and Oregon have become increasingly popular regions for the production of American wines. Mostly known for their Burgundian and Bordeaux style winemaking, these two areas burst onto the scene around 2010. Washington is the second largest wine producing area in the United States, while Oregon is fourth right behind New York. After Prohibition, Washington began by producing fortified sweet wine out of the American Concord grape variety. It wasn't until the 1950's that Washington State University carried out its first study on which vitis vinifera vines would grow best in the Washington terroir.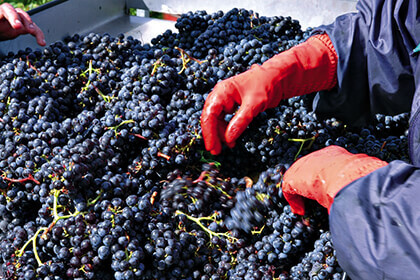 Despite its reputation for being rainy, the vineyards of Washington State are actually extremely dry and sunny, as they lie in a rain shadow from the Cascade Mountain Ranges. This means that the wineries in Washington heavily rely on irrigation for their grapes to grow successfully. The vineyards in Washington also experience longer sunlight hours and consistent warm weather in the growing season allowing for grapes to ripen slowly and evenly. Due to its continental climate, the area also experiences cold harsh winters. Grenache was known to be the first vitis vinfera vine variety to grow successfully in the area. The most known and largest AVA in Washington in the Columbia Valley which is known for their big bold red wines like Cabernet Sauvignon, Merlot, Malbec and Syrah.
Oregon wines are perhaps best represented by Willamette Valley Pinot Noir. These wines take on a Burgundian style, offering more of an earthy, red cherry and stewed fruit character with plenty of subtle and nuanced flavour. The Willamette Valley benefits from consistent temperatures throughout the year, cool wet winters and dry warm summers allowing for an ideal growing climate for Pinot Noir. Pinot Gris and Chardonnay are also popular white varieties, which have boosted Oregon's reputation as an American wine in the world. Home to over 700 wineries, Oregon wine tourism has also become extremely popular in the area. Many wineries look to highlight their wines in local tasting rooms southwest of the booming city of Portland. As one of the youngest wine regions in the United States and throughout the wine world, this area has shown great promise.
American Wines from New York State
Over eighty percent of New York winemaking is based on American vines, specifically Concord grapes and French Hybrids. This creates hardy grapes, resistant to the harsh winters, as well as the hot and humid summers that characterise the climate here. Production of wine began with the Dutch in the 17th century and the longest operating estate has been around for 175 years. Today New York is the third largest wine producing area in the United State and has five major growing areas: Long Island, the Finger Lakes, Lake Erie, Hudson Valley and the Niagara Escarpment.
The Finger Lakes AVA became an important area for winemaking in the 20th century, as plantings of Riesling, Pinot Noir, Gewurztraminer and Cabernet Sauvignon thrived in this terroir. The lakes are a crucial factor creating the identity and terroir of this region. The lakes insulate the vineyards and warm up the area during the harsh winters and simultaneously cool down the vineyards in the scorching summers. This area is especially known for their Rieslings – generally they are bone dry but there can be an array of sweetness depending on each winery.
Long Island and Hudson River AVA has also become popular and has helped develop winemaking within New York State. Vineyards along the Hudson River are the oldest in the state of New York with great plantings of Riesling and Chardonnay grapes. Long Island has a unique smattering of grape varieties ranging from Blaufrankish to Syrah and Cabernet Franc because of its maritime climate with hot summers and cooling influences.