Châteauneuf-du-Pape is nothing but grandiose in scale: from its sprawling 3,133-hectare terrain to its infinite number of grape varieties to its vast array of estates creating France's most potent and some of the most extraordinary red and white wines. The appellation leads the way in dynamism in the southern Rhône with its most intricate history, terroir and wines.
Venerable Papal Wines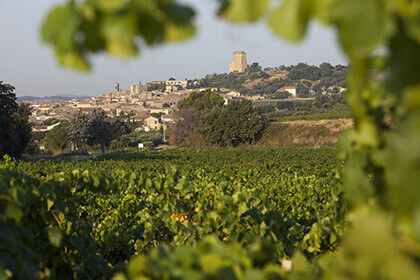 A set of papal keys adorn the grandiose bottles of wines from Châteauneuf-du-Pape. As they suggest, these wines are linked to a fascinating period in Catholic history. This was a time when the popes fled Rome and moved to Avignon in the fourteenth century, and lived there for almost 70 years from 1309 to 1378. Prior to the arrival of the popes, however, Bishop Geoffroy of Avignon had already planted vines as early as 1157. The first pope to move to Avignon, Clement V, also planted vines and essentially became one of Châteauneuf-du-Pape's first winemakers. Pope John XXII, the second pope to live in Avignon, loved these wines so much that he bestowed the prestigious title of "Vin du Pape" (Papal Wine) on them – the name they were called before they became "Le Châteauneuf-du-Pape". John XXII was also the pope who ordered the construction of the Châteauneuf-du-Pape castle that has become symbol for the appellation. The one tower remaining intact continues to overlook the vines and the village below it. The passage of time, religious wars, the French Revolution and a German bombing is a testament to the steadfast will of the appellation and its wines.
AOC Status: Protecting and Promoting Quality
Although the wines are adorned with the Châteauneuf-du-Pape name and it means "the pope's new castle", the appellation wasn't always referred to as Châteauneuf-du-Pape. The village was originally called "Castro nova" meaning "new fortified village" back in 1094. In the thirteenth century, the village changed its name to "Châteauneuf-Calcernier" with the "calcernier" referring to the lime kilns in the village. From the sixteenth century, the village was often called Châteauneuf-du-Pape" due to its connection to Pope John XXII. However, it wasn't until 1893 that the village's name officially became "Châteauneuf-du-Pape".
The marketing potential of Châteauneuf-du-Pape had already been recognized before that time. In 1829, almost 2,000 hectolitres were exported and sold outside the region! As the wines became more well-known, the winemakers wanted to maintain the quality of their wines and to protect its image, so they got together to form the very first Syndicat Viticole (Winemakers' Union) in 1894. At this time, there were those outside of the region who wanted to benefit from Châteauneuf-du-Pape's prestigious name, so they'd try to pass off their grapes and wines as coming from the commune. The winegrowers therefore wanted to put a stop to this type of fraud, so they got themselves organised into that union.
Later in 1923, the region's most famous winemaker, Baron Le Roy de Boiseaumarié from Château Fortia, laid the foundation for establishing France's Appellations d'Origine Contrôlée (AOC) – controlled designations of origin. On his estate, he delimited a section that was arid enough to grow both lavender and thyme. Essentially, herbs led to France's renowned system for certifying geographical indications for wine! This then resulted in the creation of the "Châteauneuf-du-Pape Winemakers' Union" that had the intent purpose of getting AOC status for Châteauneuf-du-Pape. Baron Le Roy was at its helm, and since he was also a lawyer, his legal expertise definitely turned out to be quite useful for navigating the French court system. Finally, Châteauneuf-du-Pape got its AOC status in 1936, and it became France's first winemaking AOC.
Mosaic Terroir: From the Temperamental Mistral to a Patchwork of Soils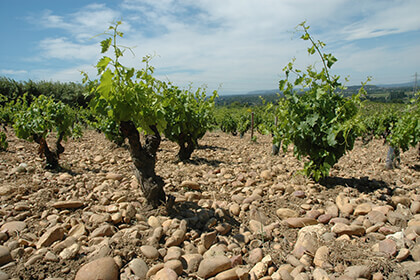 The first thing you'll notice about the Southern Rhône is that it's hot with 2,800 hours of sunshine a year. This Mediterranean climate brings long, hot summer days with cool, wet winters. It's no surprise to see the rolling landscape and plateaus dotted with goblet vines (also known as "bush vines"). These vines don't have any wires or support system to hold them up, so they end up in a goblet shape – just like the drinking glass. This shape is perfect since it can shade the berries from all that harsh sunlight. You definitely wouldn't want that bitter taste from sunburned grapes in your wine!
The area does get some relief from the heat from the Mistral – a cool wind that blasts down from the northeast at speeds that can reach over 100 km/h. With all this wind, it's no wonder that the Mistral can desiccate the grapes. This is actually beneficial since the lack of moisture helps to concentrate sugars and flavours in the grapes, and this is why you get these ripe, developed flavours in Châteauneuf-du-Pape wines. However, if the Mistral keeps blowing for too long, it can suck out too much water from the vines and dehydrate them. On top of this, the Mistral can also take out entire vineyards with their gales uprooting the vines. Despite the Mistral's terrifying temper, once it calms down the vines and their grape bunches are dry, and this helps keep them free from viruses and diseases. The Mistral is indeed a mixed blessing for the vineyards.
The intricacies of the Mistral also extends to the soils that make up the Châteauneuf-du-Pape appellation – there are actually eighteen different types of soils. To generalise, the rocky western part of Châteauneuf-du-Pape has limestone soil. The plateaus have sand and clay soil with large stones covering them. In the northern part, there is a mixture of sand, red and grey clay, and limestone. Less stony soil alternating with marl characterises the east. To the south, shallow sand and clay soil rest on a well-drained layer of gravel. Many of these incredibly varied soils are covered with large, round pebbles called galets roulés that glaciers left behind millions of years ago. These galets help the vines out since they store heat during the day and then radiate it at night to keep the vines warm. All of this helps ripen the grapes! These stones also help to keep water in the soil so that there's enough to get the vines through those scorching summer days. This patchwork of soils is also accompanied with a patchwork of grape varieties throughout the appellation.
Grape Varieties: The Three Musketeers of the GSM Blend
Technically, there are thirteen varieties that can be blended into Châteauneuf-du-Pape wines, but you also have to factor in the colour variants of those thirteen grapes. Grenache, for example, has four variants, Grenache noir, rose, gris and blanc (black, rose, grey and white). In total, there are actually 22 grapes that are authorised in this appellation! Grenache makes up the backbone of the appellation and often ends up in a blend with Mourvèdre and Syrah to give the AOC's iconic "GSM" blend – an aromatic, full-bodied wine with dark fruit and spicy flavours. These three musketeers are a perfect ensemble since Grenache offers all those red fruit flavours and high alcohol, Mourvèdre gives pigment and power, and Syrah balances everything out. Keep in mind that since the summers are getting warmer, Mourvèdre is gaining favour over Syrah recently. Syrah tends to lose its freshness in the Southern Rhône due to the warmer climate, and Mourvèdre's late-ripening personality makes it a perfect match for those sizzling summers. Although those three musketeers dominate the GSM blend, you'll still find other varieties in the blend like Cinsault and Counoise, and a little bit of Vaccarèse, Muscardin, Picpoul and Terret Noir. For the last four, they are the main white varieties that pop up in tiny amounts in the blend, which include Clairette, Bourboulenc, Roussanne and Picardin. Indeed, white varieties can be blended into red wine in Châteauneuf-du-Pape!
Though red wines make up 93% of Châteauneuf-du-Pape wines, the AOC does produce some of the rarest and most renowned whites from the region – only a mere 7% of the wines are white. The most common grapes that can be found in these wines are Grenache Blanc, Roussanne, Clairette Blanche and Bourboulenc. Grenache Blanc loves the sun, so the grapes ripen with a high sugar level, and this gives the wine its high alcohol level. Clairette Blanche and Bourboulenc give freshness and citrusy flavours while Roussanne offers peachy notes. For texture and tannins, this is where Clairette Rose steps up. These white blends are indeed rare, but they're definitely worth seeking out for all their full-bodied, blended richness.
Châteauneuf-du-Pape Wines: The Common Thread that Combines them All
Trying to describe just one style of Châteauneuf-du-Pape is astonishingly challenging since the sprawling terroir, endless number of varieties and the vast array of producers result in a sheer number of styles. However, there is a common thread that can tie all of these styles together with their warmth, richness, spiciness and ripe fruit. You'll likely to notice red fruit flavours like raspberry and strawberry and black fruit ones likes blueberry and black currant. There's also an earthiness to these wines with leather and barnyard notes. Oaky flavours can also reveal themselves through smoke, tobacco, toast and baking spices like clove and vanilla. Blends that have higher proportions of Mourvèdre can have gamey or barnyard aromas – these actually come from a type of yeast called Brettanomyces that can be found hiding in the nooks and corners of wineries, especially in oak barrels. Often called "Brett", some wine lovers appreciate the extra complexity it seems to give wines while others don't like it at all. Nevertheless, letting the wine sit open for a few hours before you drink it will dissipate the strongest barnyard aromas. Another feature to remember about Châteauneuf-du-Pape wines is that they have higher alcohol levels than other French wines. The appellation has the highest minimum strength of any French wine at 12.5%, but most of the wines you'll come across have alcohol by volume (ABV) levels starting from 14%. Whatever your preference, Châteauneuf-du-Pape offers an array of styles from those with freshness and elegance to those with more tannins and austerity.
Châteauneuf-du-Pape Estates: Representing the Papal Keys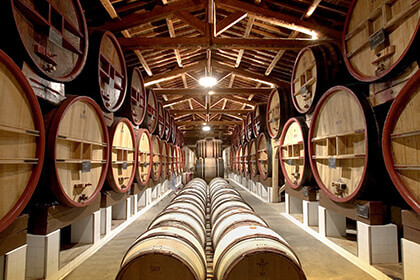 There are an array of Châteauneuf-du-Pape estates as there are an array of styles in the appellation. One of the most prestigious ambassadors for the appellation is the progressive Château de Beaucastel. The estate has been in the Perrin family for five generations, and Jean-Pierre and François took over for their father, Jacques Perrin, in 1978. Their flagship Château de Beaucastel wine is the knockout thirteen variety red blend with Grenache and Mourvèdre played the leading role in this masterpiece. The Château de Beaucastel Hommage à Jacques Perrin is also another one of their rare wines that pays homage to their father. This long-ageing wine is only made in the best of years from mostly old Mourvèdre vines that give very small yields of intensely ripe, concentrated berries. Another appellation emissary is the modernist Château La Nerthe. This estate is one of the oldest dating all the way back to the twelfth century at the dawn of the appellation's wine culture. It been an organically certified vineyard since 1998, and has all thirteen of the permitted varieties growing in its vineyards with some of the vines as old as 100-years-old. One of its crown jewels is the La Nerthe Cuvee des Cadettes which has been in production since the end of the 1800s! It's truly a fine representation of what a GSM blend should be. Clos des Papes is another one of the finest producers in Châteauneuf-du-Pape. Paul and Vincent Avril, a father and son team, craft Grenache-dominated reds, which the family has produced for over a century. Their use of low yields, no new oak for ageing and no filtering all contribute to the complexity of their wines. Domaine de la Vieille Julienne is also another remarkable estate focusing its attention on Grenache-leading wines with some of its vines as old as 100-years-old. Jean-Paul Daumen took over his family's estate in 1990, and has since then converted it to biodynamics. One of its most acclaimed wines is the Domaine Vieille Julienne Réserve that is only made in the best vintages. Last but definitely not least of the range of producers in the appellation, Château Rayas produces one of the most sought-after Châteauneuf-du-Pape wines – a 100% Grenache mono-cuvée. The estate dates back to 1880, but it was Jacques Reynaud, one of the world's greatest winemakers, who enshrined its legacy up until his death in 1997. His son, François, now continues his father's methods that run contrary to what you'd expect in the appellation: the 13-hectares of vines face north in soil without the fabled galets roulés, yields can be as low as 15hl/h, and wines are aged in 450-litre "double-piece" oak casks. The dynamism and diversity of Châteauneuf-du-Pape allows you to find whatever your heart desires whether it's a 13-variety blended masterpiece, a classical GSM or a rare mono-cuvée.

The grandiose scale of Châteauneuf-du-Pape makes it one of France's most intricate appellations with its multitude of terroirs and grape varieties. It's because of this intricacy that engulfs you in dazzling wines that not only awaken the senses, but leave you yearning for just one more sip of pure Châteauneuf-du-Pape radiance.