In Spain, the passionate winemakers of 138 distinct winemaking appellations cultivate a wide array of grape varieties, including local flagships, like the famous Tempranillo, as well as international best-sellers, like Cabernet Sauvignon. Discover the fascinating history of Spanish wine and transport yourself, through the glass, to the sunny vineyards of Rioja, Priorat or Ribera del Duero…
The History of Spanish Wine
While archaeologists trace the history of grape vine cultivation in Spain back to sometime between 4,000 to 3,000 BC, wine-growing really began here with the arrival of the Phoenicians around 1,100 BC. The Carthaginians followed, introducing new viticultural techniques, including those of agronomist Mago. Between the 220 BC and 19 BC, the Romans conquered the Iberian Peninsula, naming their new province Hispania. Under Roman rule, wine was produced mostly in Terraconensis (Tarragona) and Baetica (Andalucia), and exported to Gaul, as evidenced by remnants of amphorae found in former Roman settlements across France. The quality of the wines varied.
Following the Roman Empire's decline, the progress of winemaking stalled for a few centuries as the territory came under invasion by different barbaric tribes. When the Moors conquered this land in the beginning of the 8th century, they continued to produce wine. Although Islamic dietary laws forbade the consumption of alcohol by Muslims, some rulers continued to drink wine. The Spanish Reconquista that followed allowed for the export of the wines to England, where they were prized for their full body and high alcohol content.
In 1492, Christopher Columbus, sponsored by the Spanish crown, arrived in the "New World", opening the door to Spanish conquistadors and missionaries, who brought grape vines to plant in the new colonies. At the same time, English-Spanish relations began to deteriorate, culminating in the Anglo-Spanish War, and the two nations' trade relations also soured. The export of Spanish wines shifted from England to the Spanish colonies in the Americas, often at the expense of the budding wine industries in Argentina, Peru, Mexico and Chile.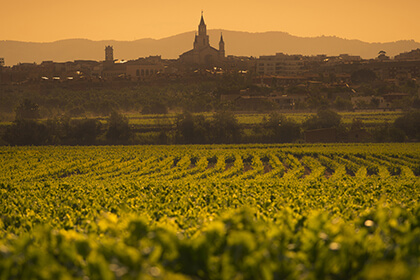 During the 17th and 18th centuries, some Spanish wines (including Rioja and Sherry) were gaining in popularity, although they were for the most part still outshined by the French wine industry, which had been quick to adapt the technological developments of the Industrial Age. Nevertheless, the arrival of the phylloxera vine epidemic to France in the second half of the 19th century and the devastation of the French vineyards that ensued led to a shortage of French wine and a demand on the market.
French winemakers crossed the Pyrenees to purchase their own vines or to consult in Spanish regions like Catalonia, Rioja and Navarra, bringing with them new tools like 225L oak barriques and, most importantly, their "savoir-faire" (know-how). The Champagne method of producing sparkling wine was adapted by winemakers in Catalonia, leading to the production of Cava. By the time phylloxera reached and spread through the vineyards of Spain, the technique of grafting onto American rootstock had been discovered, so the recovery of Spanish vineyards was relatively rapid.
The next few decades saw a military dictatorship, the Spanish Civil War and two World Wars, which led the destruction and neglect of many of Spain's wineries and vineyards. Similarly to how it happened in certain wine regions of Italy, it was the cooperative wineries that first emerged in the 1950's, specialising in the production of bulk wine. Spain's transition to democracy in the 1970's following the death of Francisco Franco, led to the renaissance of quality wine production in Spain and the next two decades saw the modernization of winemaking in the country. The Denominacion de Origen (DO) system, born in 1932, was revised to resemble the Appellation d'origine controlée (AOC) system of France.
During the 1990's, international flying winemakers began arriving to the wine regions of Spain, bringing with them ideas on how to further improve quality. Rioja was classified as the very first Denominacion de Origen Calificada (DOCa) appellation in 1991, followed by the Priorat appellation in 2003. By the end of the 20th century, Spain had shifted its focus from bulk wine to premium, high-quality wine for the consumer market.
Classification and Labelling of the Wines of Spain
The Denominacion de Origen (DO) system to classify Spanish wine was established in 1932, then revised in 1970 and updated and renamed Denominacion de Origen Protegida (DOP) in 2016. As of the year 2019, Spain is home to 138 wine regions officially recognised by the country's system of geographical classification. Of these, two (Rioja and Priorat) are classified DOCa/DOQ (Denominación de Origen Calificada or Denominació d'Origen Qualificada in Catalan), which refers to regions that demonstrate a proven track record of very high quality wine production. Spain is also home to 68 wine regions classified DO (Denominación de Origen or Denominació d'Origen in Catalan).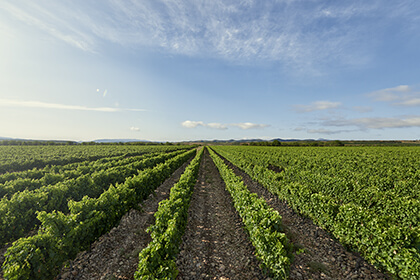 Additionally, there are 17 VC (Vino de Calidad con Indicación Geográfica) regions, which is a category created in 2003 to give a place for wines between IGP and DO quality. There are also 19 VP (Vino de Pago), a category also created in 2003 for high-quality, single-estate wines, which may also have DO designation. And finally, there are 42 IGP (indicación geográfica protegida) designations, including wines that are considered to be below the quality level required for DOP status, but which originate from a specific place with a distinct geographical identity. These are also called VT (Vinos de Tierra). VdM (Vino de Mesa) or Spanish "table wine" are unclassified.
In Spain, the length of a wine's ageing process is generally included on the label. Wines labelled "vino joven" or "sin crianza" typically have not been aged or have been aged, but only for a few months (depending on the producer and region). The Crianza category includes Spanish red wines of Rioja that have been aged for 1 year in oak barrels, along with rosé and white wines that must be aged for a period of 6 months minimum in oak barrels. Reserva refers to red wines that have been aged for 3 years minimum, of which at least 1 year in oak barrel, as well as rosé and white wines aged at least 2 years, with a minimum of 6 months in oak. Finally, the Gran Reserva category are reserved for wines from the very best vintages, which have undergone at least 5 years of ageing, of which 2 must be in oak and 3 in bottle. White and rosé wines labelled Gran Reserva must be aged for 4 years, of which at least 6 months in oak.
The Diversity of Spanish Terroirs and Grape Varieties
Spanning 6 degrees of latitude (36°N to 43°N) and 800 kilometres (500 miles) from its Mediterranean coast to the Atlantic Ocean, Spain is home to a wide range of winemaking terroirs. Notably, the country's topography plays an important role in defining terroir, with the Cordillera Cantabrica mountain range producing significant differences between the lush, verdant and cool Atlantic area in the north and the very dry, hot Castilla y Leon mainland area in the south. The Cantabrica range also protects certain regions, including Rioja, from excessive precipitation and cold temperatures, while creating rain shadows on the Basque side on the coast.
From the vast Meseta Central plateau in the centre of Spain spring several rivers, which flow through the country, impacting soil type and mesoclimate along the way. These "wine rivers" of Spain include the westward-flowing Duero, Tajo, Mina and Guadiana, along with the eastward-flowing Ebro River, which runs through Castilla y Leon, Navarra, Aragon and Rioja before flowing into the Mediterranean Sea in Catalonia.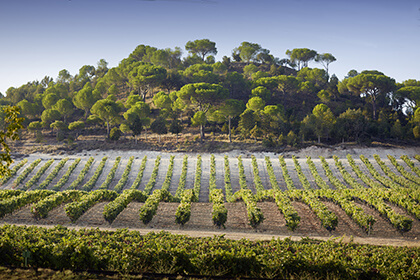 Generally speaking, the cool climates in the north and northwest of Spain tend to result in light-bodied, crisp white wines, while the warmer and drier inland areas produce fruit-forward red wines. Mediterranean influence translates into powerful, full-bodied red wines, with the exception of regions that are situated at higher altitudes, where higher diurnals result in wines with a crisp natural acidity. With such a wide range of terroirs and microterroirs, it is no wonder that Spain is home to such a wide range of grape varieties.
The most planted Spanish red wine variety and the country's iconic flagship is Tempranillo, which goes by many regional nicknamed, including Tinto Fino, Ull de Llebre, Tinto de Toro and Cencibel (just to name a few). Either produced as a single-varietal or blended with Garnacha (Grenache), the Tempranillo grape originated in Spain's Rioja region and is characterised by a thick skin with a high degree of anthocyanins producing wines with intense colour and moderate tannin. Due its relatively low degree of natural acidity, Tempranillo is typically found in locations with higher altitude and its wines are usually aged in American oak or French oak barrels.
Dark-skinned Bobal is relatively unknown, though it represents a large portion of Spanish vines. This grape's thick skins allow it to thrive in dry, continental climates and produce wines with intense dried fruit and chocolate aromas. Traditionally Bobal was used as a blending partner with other grapes, though producers are now producing single-varietal expressions, particularly in Utiel-Requena.
Garnacha (or Garnatxa in Catalan or Grenache in French) produces fruit-forward and juicy wines with a high degree of alcohol. This is thin-skinned, late-ripening red variety, often blended with Tempranillo (in Rioja) or with Carignan (as in the prestigious wines of Priorat). Single-varietal Garnacha wines reveal delicious raspberry flavours, as well as hints of spice.
Monastrell (known as Mourvedre in France) is a thick-skinned grape that thrives in hot, dry climates and produces intensely hued wines with tons of mouth-drying tannin. Other important red grape varieties grown in Spain include fruity and floral Mencia and Prieto Picudo from Castilla y Leon and international varieties, like Cabernet Sauvignon, Syrah and Merlot.
The most planted white grape in Spain is high-yielding and drought-resistant Airen, usually used as a work-horse in blends. The versatile Macabeo (Viura) grape takes on different styles depending on where it is grown, at times producing fresh and floral wines, at other times heavier, honeyed styles. This is the main white wine of Rioja, and is grown all over Catalonia, including in Cava where it is blended with Parellada and Xarello in sparkling wines.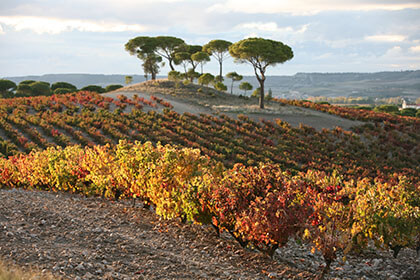 Palomino hails from Andalucia, where it is the main grape variety used in the production of Sherry. This white grape is characterised by a relatively low natural acidity and low potential alcohol, neutral in flavour. The solera system is used to make Sherry in a wide range of styles using the oxidative method.
The very green Albarino (Alvarinho) grape is the star of Galicia on Spain's Atlantic coast, where it produces crisp white wines with citrus, peach and mineral aromas. The marine influence of Albarino vineyards often manifests itself as touches of salinity in the finished wines, lending them the unique ability to pair easily with a wide range of dishes - most classically, fresh seafood. Also from Galicia, the Godello variety produces rich, textured white wines with ripe yellow fruit aromas.
Other white varieties grown in Spain include Verdejo (grown in the high altitude vineyards of Rueda and used to produce aromatic whites with citrus and melon aromas), Hondarrabi Zuri (used to produce slightly sparkling Txacoli wine in Basque Country), fresh and herby Zalema in southern Spain, and aromatic Marmajuelo on the Canary Islands. Many international white grape varieties are also planted in Spain, including Chardonnay and Sauvignon Blanc.
The Major Wine Regions of Spain and their Signature Styles
With 138 officially recognised wine producing designations, the easiest way to learn about Spanish wine is by categorising them based on geographical or administrative area. Wine is produced in each one of Spain's autonomous communities: Andalusia, Aragon, Asturias, Cantabria, Castile and Leon, Castile – La Mancha, Catalonia, Community of Madrid, Valencia, Extramadura, Galicia, the Balearic Islands, the Canary Islands, Navarre, Basque Country, Murcia and La Rioja.
However, these regions can also be categorised into 7 main areas based on climate. In northwest Spain, the region of Galicia is home to five DO regions: Rias Baixas, Monterrei, Valdeorras, Ribeiro and Ribeira Sacra. Here, the landscape is home to mountains and very green valleys, where some vineyards experience a cooling maritime influence, as well as plenty of precipitation year-round. The major styles produced here are zesty, mineral white wines from Albarino and Godello, as well as elegant red wines with red fruit aromas made with Mencia. The Bierzo appellation (officially part of Castile and Leon) is especially well known for lively, fruity and mineral Mencia.
The Duero and Ebro Rivers flowing through Spain create unique microterroirs ideal for wine production. On the banks and in the valleys of these rivers, several grape varieties are planted, including Viura, Verdejo, Tempranillo, Garnacha and Carignan. The best known Spanish appellation is DOCa/DOQ Rioja, situated along the Ebro River and made up of three sub-regions: Rioja Alta, Rioja Alavesa and Rioja Oriental. Most Rioja wine is made with Tempranillo and Garnacha, although Mazuelo and Graciano are also used. These wines are known around the world for their power, structure and remarkable potential for age.
Stretching along the Duero River in Castilla y Leon, Ribera del Duero is another famous appellation, producing mostly red wines from Tempranillo. Near Ribera del Duero, the Rueda appellation produces mostly lighter-bodied white wines from the Verdejo grape. Also nearby, the appellation of Toro produces red wines from 100% Tinta de Toro (Tempranillo) in many styles, ranging from young wines to Gran Reserva.
Catalonia in the northeast of Spain offers a perfect representation of the Mediterranean climate, and is home to appellations like Cava, Montsant and the DOCa/DOQ Priorat. Cava is a multi-regional appellation, though most of the production is centred around the town of Penedes. Cava is the flagship sparkling wine of Spain, produced by the Champagne method (with secondary fermentation taking place in the bottle), traditionally from the Macabeo, Xarello and Parellada grapes (though Chardonnay and Pinot Noir are also allowed).
Spain's second DOCa/DOQ appellation Priorat is home to a dramatic landscape of steeply sloped vineyards, where Mediterranean influences combine with high-altitude winegrowing and iconic black schist soils (locally called llicorella) to form a unique terroir. This area produced incredibly elegant, powerful and age-worthy red wines from a traditional blend of Garnatxa (Grenache) and Carinena (Carignan). The Montsant DO appellation surrounding Priorat also produces wines from old-vine Grenache and Carignan, along with international varieties like Cabernet Sauvignon, Syrah and Merlot.
The southern Mediterranean region of Spain includes appellations like Utiel-Requena, Yecla, Jumilla and Bullas, producing fruit-forward wines from Monastrell, Bobal and Bordeaux red varieties like Cabernet Sauvignon. The red wines of Jumilla are especially representative of this area, offering a profile of lively fruit, along with earthy and mineral notes, evolving into ripe fruit and coffee with age.
The Central Plateau of Spain is home to the country's capital city of Madrid and has an average elevation of 762 meters (or 2,500 feet). The vineyards here are characterised by very sunny and dry conditions and are planted with varieties that can handle this climate. Regions of note include Vinos de Madrid, Ucles and Mentrida.
In the south of Spain, Andalucia is known for a climate that remains warm and sunny year-round, with some maritime influence by the nearby Atlantic Ocean. The best known Andalucian wines are the fortified styles produced in the sun-baked Jerez – Xeres – Sherry district from the Palomino Fino, Pedro Ximenez and Moscatel de Alejandria varieties. Sherry boasts an incredibly long and fascinating history, which has resulted in a remarkable range of wines, including Fino, Oloroso, Amontillado and Manzanilla sherries, Palo Cortado and sweet Cream Sherry.
Finally, the Canary Islands and Balearic Islands produce wines from grapes like Palomino, Callet and Listan Negro. The wines of the Canary Islands are particularly known for their rustic character, which comes from the volcanic nature of the vineyard soil.
Food Pairing with the Wines of Spain
Ranging from the bright and lemony Albarino of Galicia to the robust and powerful red blends of Priorat, Spanish wine types are varied, coming in many different styles and lending themselves to a wide array of food and wine pairings.
Due to its high natural acidity and refreshing effervescent, the Spanish sparkling wine Cava is a go-to food pairing wine, matching many different styles of cuisine. Pair it with boldly-flavoured dishes, like juicy, grilled gambas served with garlic and parsley or a variety of classic tapas, like blistered shishito
peppers.
The zesty, mineral Spanish white wine from Galicia (made with Godello or Albarino) pairs famously well with fresh seafood, like white fish grilled over charcoal, or a regional classic: Pulpo a la Gallega (octopus boiled until tender, sprinkled with paprika and served with slices of boiled potato). To enjoy with spritzy Txacoli from Basque Country, we recommend creamier fish dishes, like Bacalao a Pil-Pil. A crisp, unoaked Viura white wine from Rioja will go with fresh summer salads, while a more mature, barrel-aged white Rioja will pair perfectly with Spanish Serrano ham or bold and flavourful fish stews. Meanwhile, a Verdejo from Rueda will go nicely with your favourite summer treats, including bright summer salads or chilled oysters.
As for Spanish red wine, the country's most iconic red, a mature Rioja Reserva, should be paired with an equally complex, earthy and savoury dish, like a slow-roasted lamb shank with thyme and rosemary. Ribera del Duero red wines made with Tempranillo will pair beautifully with a char-grilled filet mignon of beef, a barbecued pork tenderloin or a classic cheeseburger with aged cheddar cheese. We recommend pairing the bold and powerful high-altitude red wines of Priorat with braised meat dishes, such as a stew of braised oxtail or pork cheeks. They will also go nicely with venison or a smoky brisket.
Finally, Sherry unlocks the door to its very own world of food pairings. Fino Sherry pairs beautifully with different kinds of tapas (the classic tortilla, especially), deep-fried dishes like tempura vegetables, gazpacho and cold cuts. Manzanilla Sherry is classically paired with seafood dishes, like fried sardines, smoked salmon and anchovies, but will also work wonders with sushi and sashimi. The nutty aromas of an Amontillado Sherry will pair nicely with most chicken and turkey dishes, risotto with mushrooms and ripe cheeses, like Pecorino. Meanwhile, fragrant Oloroso will pair with bolder meat and game dishes, such as pigeon, lamb and pork. Try it with mature cheeses, like Comté.
And finally, the Sherry region also makes a range of Sweet Spanish wine, such as dessert wines Cream Sherry and Pedro Ximenez. These pair beautifully with blue cheeses, spicy Asian cuisines and desserts like dark chocolate brownies.