From a light-bodied red Sancerre with fresh cherry aromas and spice, to a richer, lusher California Pinot, or an aged Burgundy Grand Cru with a hauntingly complex nose of thick black cherry jam, mushrooms, wet leaves and forest floor, Pinot Noir produces some of the most beloved wines in the world. Learn more about this precious red grape and its diverse range of styles.
Pinot Noir | A Thin-Skinned, Finnicky but Fabulous Grape
Pinot Noir is notoriously one of the most difficult wine grapes to successfully cultivate. As it is extremely sensitive to crop size, it can really only produce high quality wines from small yields. In stark contrast to Cabernet Sauvignon (which can grow pretty much anywhere), it is an early-ripening grape, which means that it cannot be grown in very warm wine regions where it can lose its vital natural acidity before developing enough complexity. At the same time, it is also a very thin-skinned and tightly clustered grape, making it especially sensitive to mildew in cooler wine regions with a rainy autumn season. Overall, Pinot Noir grapes prefer moderate climates with long growing seasons, where they can fully ripen while maintaining their acidity and produce lovely light- to medium-bodied wines.
As the Pinot Noir variety is believed to be well over 2,000 years old, it has left behind a vast variety of mutations, including the Pinot Gris, Pinot Meunier and Pinot Blanc varieties. It is also available in an extraordinary number of clones, each with its own unique qualities and sensitivities. Planting the wrong Pinot Noir clone in a certain terroir can result in disaster, further adding to its reputation as a finnicky grape. So why is Pinot Noir one of the most popular red varieties in the world, with roughly 100,000 hectares (or 250,000 acres) planted in total?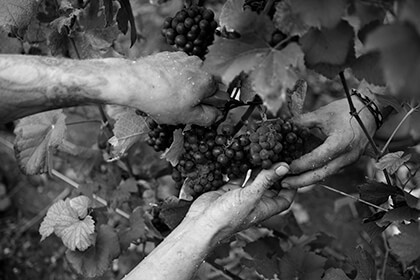 Besides its difficult nature, Pinot Noir is best known for the transparency with which it expresses its terroir of origin. Perhaps more so than any other grape varietal, Pinot Noir is able to communicate even the subtlest differences in soil type, facing, altitude, slope, along with the climatic characteristics of its vintage and winemaking style of its producer. The slightest change in either one of these parameters will result in very pronounced differences in the profile of the finished wine. It is no wonder there is such a huge range of Pinot Noir wines out there.
Pinot Noir | The Winemaking Choices Behind a Diverse Range of Styles
The decision to grow Pinot Noir brings with it many different choices. First, the winemaker must choose which of the many Pinot Noir clone is best suited to a certain terroir. In order to maximise varietal and terroir expression without disturbing the latter with potentially harmful chemicals, many French Pinot Noir growers have opted for organic and/or biodynamic viticulture.
This grape variety is typically vinified in open top vats with regular punch downs to increase contact between the juice and skins. But it is up to the Pinot Noir producer whether to ferment the red berries only, the fruit with some stems or the whole bunches. Stems are only of use if they have ripened fully, in order to avoid any bitter flavours in the finished wines. When ripe, they help add tannins and structure to a wine, especially in vintages where the fruit lacks these qualities.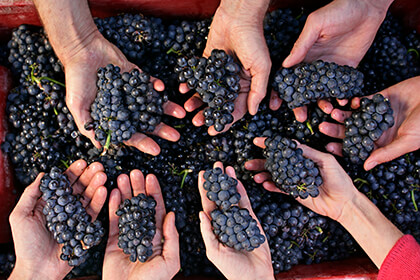 The length, temperature and method of Pinot Noir fermentation is also adjusted depending on the style sought after by the producer. Cooler fermentations result in tart, fresh red fruit flavours in the wine and a lack of punch-down means a lighter-bodied wine. Meanwhile, warmer fermentations with frequent punch-downs produce a more extracted, more tannic Pinot Noir. Cold maceration of the grapes is often employed before fermentation to extract aromas, flavours and colour without drawing out too much tannin. And then, there is the question of ageing: stainless steel, concrete or oak, American or French oak, new or used oak, the size of the ageing vessel and the length of the ageing process.
Pinot Noir | Red, White, Sparkling and Rosé
While the most famous expression of Pinot Noir comes in the form of a dry red wine, this versatile grape variety is also used in a wide range of other styles. Most notably, Pinot Noir is responsible for roughly one third of the vineyard plantings in Champagne, where it is blended with Chardonnay and Pinot Meunier to produce the region's famous sparkling wines. The Chardonnay/Pinot Noir blend for sparkling has been adopted by many regions outside of France, including Franciacorta in Italy. When exclusively Pinot Noir grapes are used to produce a fuller-bodied white Champagne, it is called a Blanc de Noirs (with the "noirs" referring to red grapes of Pinot Noir). Meanwhile, Pinot Noir is also a necessary component of Rosé Champagne, made with either the blending or bleeding method.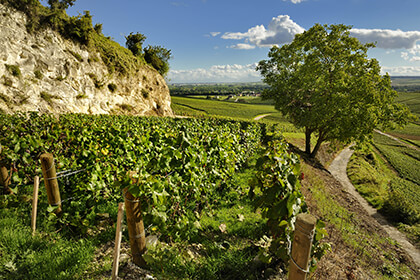 In some wine regions, the grape can be vinified with minimal skin contact to produce rich and robust white wines of great complexity. Furthermore, Pinot Noir is often the grape of choice to produce rosé wines in cooler climates like Sancerre in the Loire Valley. And, albeit very rarely, Pinot Noir can also be used to produce a pink dessert wine.
Pinot Noir | Burgundy and Beyond
Undoubtedly, the spiritual home of the Pinot Noir grape is in the Burgundy region of France, where the Cistercian monks greatly developed its quality during the Middle Ages. Here, the Grand Cru vineyards of legendary Burgundy villages, like Gevrey-Chambertin, Vosne-Romanee, Vougeot, Morey-Saint-Denis, Corton and Aloxe-Corton produce some of the most brilliant, expensive and sought-after expressions of this variety. Depending on soil composition, topography and a range of geographical, winemaking and ageing factors, Pinot Noir can express an incredible range of styles and profiles even within the same Burgundy appellation.
The finest Burgundy wines tend to be extremely age-worthy, evolving over time a haunting complexity of aromas – ripe black cherries mingling with earthy, mushroomy, forest floor, floral and herbaceous nuances – upon a silky-smooth palate of very soft tannins. Pinot Noir can also produce brighter, livelier Village Burgundy wines, which still express a strong sense of place while also being more approachable in their youth.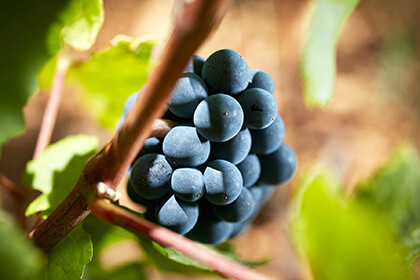 Elsewhere in France, Pinot Noir is the grape of choice to produce cool-climate, light-bodied red wines in Jura, Savoie and Sancerre. These wines offer the signature cherry aromas of Pinot Noir, along with touches of rose petal and sometimes hints of spice. In Alsace, it is the only red grape planted. In Champagne, it is grown in the Montagne de Reims and Valle de la Marne areas and blended with Chardonnay and Pinot Meunier to produce sparkling wines.
The second largest producer of Pinot Noir is the United States of America, where the state of Oregon specialises in top quality, cool-climate Pinot Noir wines. Producers like Evening Land Vineyards and Solena in the Willamette Valley are producing gorgeous, nuanced, single-vineyard Pinot Noir wines in a distinctly Burgundian style. Surprisingly, sunny California is also home to several Pinot Noir vines, typically in coastal AVAs like Sonoma and the Sta. Rita Hills or in areas that are cooled by the Pacific fog, like the Carneros and the Russian River Valley (perfectly exemplified by producers like DuMol and Kosta Browne Winery). California Pinot Noir tends to be richer, fruitier and lusher in style than the more reserved, nuanced and savoury expressions from Burgundy.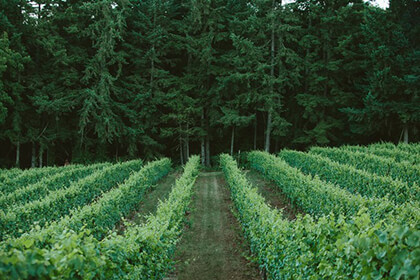 Following France and the USA, Germany is the third largest producer of Pinot Noir, locally known as Spätburgunder. This red grape is planted in all German wine regions, most notably in Baden, Pfalz and Nahe, with quality improving each year. German Pinot Noir tends to be fresh, lean and very aromatic, expressing (as it does everywhere) the vast diversity of its terroirs. Pinot Noir planted in the cooler climates of northern Italy goes by Pinot Nero, while in eastern Switzerland it takes the name Blauburgunder.
Down under, this Burgundian red grape has been planted in the Victoria and Tasmania areas of Australia, as well as the Central Otago, Marlborough and Martinborough of New Zealand. These Pinots tend to be fuller-bodied and richer in texture. It is also the cool-climate red of choice on the coasts of South Africa and Chile.
Pinot Noir | A Food-Friendly Wine
Due in part to its naturally high acidity and low levels of tannin, Pinot Noir is a particularly easy wine to match with a wide range of dishes. But the perfect food pairing will depend on the style and origin of your wine. A light, fresh and fruity version with tart fresh cherry aromas (like a Burgundy Village or a red Alsace) will pair nicely with charcuterie or roasted spring vegetables. Meanwhile, a fuller-bodied Pinot Noir with a slightly sweet cherry jam nose (like a Californian or Chilean Pinot Noir) will balance the spice and char of grilled quail or barbecued pork. And an earthy, savoury, silky-smooth and elegant Pinot Noir (like an aged Premier or Grand Cru red Burgundy) is a great pairing with an equally earthy food, like a truffle risotto or roasted pheasant with chestnuts and wild mushrooms.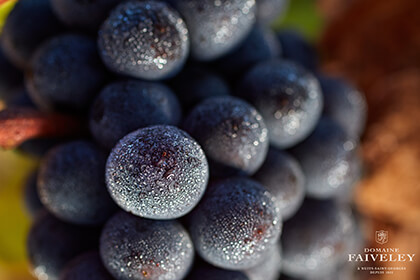 Most Pinot Noir wines should be served at 54–60°F, slightly cooler than Cabernet Sauvignon or Merlot for example. For an ideal Pinot Noir tasting, choose a large, round, bell-shaped glass with a wide bowl, which will collect the aromas coming off the wine and direct them to your nose.