Indulge in a bottle of big and bold Barolo, a crisp and fruity Pinot Grigio or a festive flute of Prosecco from the verdant hills of Valdobbiadene. There is an Italian wine to match every taste, preference and budget.
Thousands of Years of Italian Wine Production
While archaeological evidence in the form of pot and jug fragments place the beginning of Italian winemaking back thousands of years earlier, it was really the Ancient Greeks who introduced organised viticulture to "the boot" upon their colonization of the Italian peninsula around 800 BC. The Mycenaean Greeks spread the tradition to the southern tip of Italy as well as Sicily. The Etruscans, who came after the Greeks, continued the tradition, planting the grape vine in central Italy. And when the Romans defeated the Carthaginians in the 2nd century BC and took over the peninsula, winemaking flourished. The Romans built upon Greek innovations, fine-tuning the Greek grape presses, and experimenting with ageing wines in wooden barrels and glass bottles. The demand for wine exploded among the Romans and yields were increased to supply this demand.
During the rise of Christianity, the monastic orders of Italy dedicated themselves to wine production, and for a few centuries wine became more important as a religious sacrament than a commercial product. This changed during the Renaissance, which brought new momentum to the Italian wine industry and a new thirst for Italian wine. Some of Italy's most iconic viticultural families, such as the famous Antinori family, can trace their winemaking history back to this time.
The Renaissance ushered in the modern era of Italian wine, which continued to gradually develop throughout the centuries. And since the Italian peninsula was largely fragmented into city-states, kingdoms and duchies until its unification in 1861, this development was also fragmented, with each region of Italy forming its own winemaking traditions with its own native grape varieties.
At the end of the 19th century, Italian vineyard suffered from the blows of the phylloxera epidemic, which wiped out a majority of the vines and forced winegrowers to replant them grafted onto American rootstock. The beginning of the 20th century brought economic depression and two World Wars, which led to the diminishing quality of Italian wine.
In 1963, following the Treaty of Rome, Italy launched the first official classification system for its wines, modelled after the French Appellation d'Origine Controlee (AOC) system. The Italian classification system was amended several times over the years that followed and in 1992 it was overhauled to better adhere to the new European Union law on Protected Designation of Origin. Since then, several Italian designations have been registered by the EU.
Today, the Italian classification system includes the Denominazione di Origine Controllata (DOC), equivalent to the French AOC, as well as the Denominazione di Origine Controllata e Garantita (DOCG), which is understood as superior to the DOC and is the highest form of classification in Italian wine. Finally, wine labelled Indicazione Geografica Tipica (IGT) are produced with grapes and styles not allowed under DOC and DOCG regulations.
The Remarkable Diversity of Italy's Terroirs and Italian Wine Grape Varieties
A long and thin country covering an extensive range of latitudes, Italy boasts a vast diversity of wine growing terroirs, from the windy and cool Alps in the north to the sea-breeze-swept vineyards of its very long coastline and the dry heat of Sicily's Mount Etna in the south. Italy is also home to the long Apennine Mountain range and hills, resulting in a wide spectrum of elevations, soil types, exposures – in other words, microterroirs – suited to a wide spectrum of different grape varieties. Italy's historic fragmentation into several autonomous city-states also means that today each of its 20 winegrowing regions has its very own winemaking traditions, grape varieties and savoir-faire.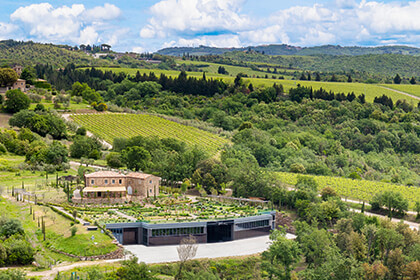 Italy is home to over 500 unique autonomous grape varieties, only a few of which are known outside of the country. Some of the best known red Italian wine grapes include Sangiovese (the flagship grape of Tuscany), Nebbiolo (the flagship of Piedmont), Montepulciano, Barbera, Nero d'Avola, Primitivo (also known as Zinfandel), Dolcetto and the Valpolicella Blend of Corvina, Corvinone and Rondinella.
The most famous Italian white grape varieties include Trebbiano, Pinot Grigio (originally French but offering a very different style of wine in Italy), Vernaccia, Verdicchio and Friulano. One of the most famous sparkling wines in the world, Prosecco, is made from the Glera grape, native to the Veneto region. And while these grape varieties are just the best known internationally, Italy produces many very unique but lesser known gems, just waiting to be discovered.
Of course, as in every country, many Italian producers also plant international grape varieties, such as Cabernet Sauvignon, Merlot, Syrah, Riesling, Chardonnay and Sauvignon Blanc. In fact, Super Tuscans (some of Italy's most famous red wines) are produced from a blend of Sangiovese with Cabernet Sauvignon, Merlot, Syrah and Cabernet Franc in varying proportions.
The Signature Styles of 20 Italian Wine Regions
Today, Italy is divided into 20 administrative regions, each one boasting its own unique winemaking history, traditions, grape varieties and styles.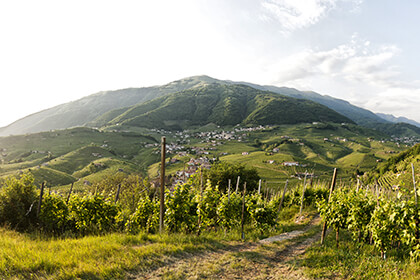 Arguably the best known Italian wine region, Tuscany in central Italy is home to a scenic landscape of rolling hills, cypress-lined roads and picturesque hilltop villages. Here, the Sangiovese red grape is king. This grape is used to produce bold and beautiful Brunello di Montalcino (like those of Podere Brizio) and Vino Nobile di Montepulciano (like those of Avignonesi). In the Chianti Classico appellation, producers like Castello di Volpaia blend Sangiovese with Canaiolo and Colorino to produce wines with red and black cherry aromas, along with hints of wild herbs and very structured tannins. It is also blended with Cabernet Sauvignon and other French varieties to produce Super Tuscans (like those of Barone Ricasoli), the most famous of which come from Bolgheri.
Often described as the "Burgundy of Italy," Piedmont region in the northwest is at the peak of quality with more DOCG wines than any other region in the country. In the hilly terroir of Piedmont, the late-ripening Nebbiolo grape reigns supreme, known for its signature aromas of rose and tar. Some of the best known Piedmontese wines are the firm and tannic Barolo (like those of Pio Cesare and Chiara Boschis), spicy and elegant Barbaresco (from wineries like Produttori del Barbaresco) and the softer Barbera d'Asti wines (like those of De Forville) produced from the Barbera grape. Historically, Piedmont was also very well known for Moscato d'Asti, a sweet wine made from Moscato grapes.
Just north of Piedmont, the Aosta Valley is Italy's smallest winegrowing region, producing Italian red wines from Picontendro (a local variant of Nebbiolo), Dolcetto and Gamay, as well as white wines from Chardonnay.
Veneto, located in the north-eastern corner of Italy, produces a wide range of styles from many different grape varieties. Amarone della Valpolicella is one of the most famous, exemplified by producers like Dal Forno Romano. This is a very intensely flavoured red wine produced with a blend of Corvina, Corvinone and Rondinella, from grapes that have been dried through a process called "appassimento" to concentrate their aromas. The same technique is used to make the sweet wines of Recioto della Valpolicella (like those of the world-renowned Giuseppe Quintarelli). Valpolicella wines are made from the same grapes but without appassimento, yielding easy-drinking, fruity wines with tart red cherry aromas. Veneto is also home to Valdobbiadene Prosecco Superiore producers like Bisol, which produces some of the most popular sparkling wines in the world from the Glera grape. Finally, the Soave DOC in Veneto makes crisp and fruity dry white wines that are immensely refreshing.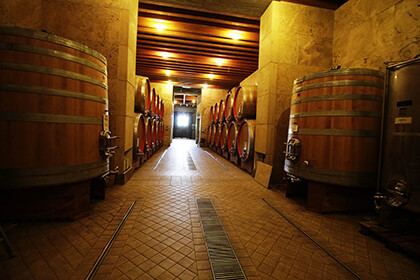 The northernmost wine region of Italy, Trentino-Alto Adige is home to producers like Elena Walch, producing gorgeous cool-climate dry white wines from international varieties like Pinot Grigio and Chardonnay. Friuli - Venezia Giulia to the far northeast also produces mostly white wines, from it signature Friulano grape, as well as Sauvignon Blanc, Riesling, Pinot Bianco, Pinot Grigio and Picolit. Lombardy in the heart of northern Italy is best known for Franciacorta, a beautiful sparkling wine made with the Champagne method from a blend of Chardonnay, Pinot Noir and sometimes Pinot Blanc.
Bordering Tuscany to the north, Emilia-Romagna region is characterised by its vast geographical diversity and its production of large volumes of white and red wines from Malvasia and Lambrusco, as well as Sangiovese, Trebbiano, Barbera and Bonarda. Liguria to the west of Emilia-Romagna is known as the Italian Riviera, growing almost 100 different varieties. This region is, however, best known for its white wines made from the local Vermentino grape.
On the far eastern side of central Italy, the Marche region is best known for wineries like Pievalta producing a gorgeous green-tinted, very crisp and herbaceous white wine from the Verdicchio grape. The bordering Umbria is also best known for white wines, especially those made from the Grechetto and Trebbiano grapes. Umbria also produces some fine red wines from native grapes like Sagrantino. Paolo Bea produces a wide range of styles in Umbria.
Further south, the Lazio region is home to the capital city of Rome, surrounded by vineyards (like those of Monastero Suore Cistercensi) producing white wines from Trebbiano, Malvasia di Candia and Malvasia Puntinata. Abruzzo, to the east of Lazio, produces gorgeous red wines from the native Montepulciano variety and whites from Trebbiano, like those of Tiberio. South of Abruzzo, Molise is a mountainous region producing white blends with Trebbiano Toscano and Bombino, as well as red wines with Montepulciano and Aglianico.
The flagship grape of Campania, home to the city of Naples, is Aglianico, which produces the region's two most famous full-bodied red wines, Taurasi and Aglianico del Taburno. White Campania wines are made from the varieties Fiano and Greco. The heal of the Italian boot, Puglia juts out into the Adriatic Sea and is home to a hilly area in the north and a flatter region in the south. Besides its olive oil, the region is known for its bold and beautiful red wines made with Negroamaro and Primitivo, produced by Polvanera, for example. Puglia also produces some warm climate whites from the Verdeca grape.
Like Campania, the Basilicata region is also known for the Aglianico variety, producing wines especially famous in the Aglianico del Vulture appellation, like those of Bisceglia for example. Most of the production of Basilicata is classified under IGT. Finally, the Calabria region (the pointed toe of the Italian boot) produces red wines from Gaglioppo and Greco Nero as well as white wines from Greco Bianco, Trebbiano Toscano and Malvasia Bianca.
Italy also produces wine on its two island regions: Sicily and Sardinia. The perfect growing conditions of sunny Sicily make the island a hotspot for wine production. Some of the most iconic wines from Sicily are the Etna wines made in red from Nerello Mascalese and Nerello Cappuccio (such as the fabulous Etna Rosso wines of Terre Nere) and in white from Carricante and Catarratto. These wines are produces from the volcanic soils, lending a beautiful complexity and minerality to the wines. Futher south, the Vittoria DOC is known for its signature blend of Nero d'Avola and Frappato (such as the wines of COS).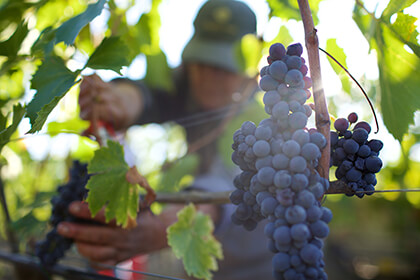 Meanwhile, Sardinia is known for planting French varieties (like Carignan and Cabernet Sauvignon) and Spanish varieties (like Grenache) along with Italian ones (like Malvasia and Vermentino). The island also produces wines from lesser known varieties exclusively found in Sardinia, including Torbato, Niederra and Nasco.
Food Pairing with Italian Wine
When searching for the ideal dish to pair with your Italian wines, the simplest approach is to pair regionally. As the ingredients come from the same terroir that produces the grapes for the wine, regional food specialties tend to be the perfect solution when pairing with regional wines. For example, the savoury, rustic flavours of Piedmont wines like Barolo and Barbaresco will match beautifully a tasting of one of the flagship culinary ingredients of the region, truffle. Pair these Nebbiolo wines with risotto al tartufo, a creamy, rich and earthy rice dish of the region.
Meanwhile, a hearty, thick-cut Bistecca alla Fiorentina served with cannellini beans (typical from Tuscany) will go beautifully with aged, complex Sangiovese wines like Chianti or Brunello.
The famous Pizza Napoletana of Naples will go great with an Anglianico-based red from Campania, while the classic Tagliatelle al Ragu from Bologna will pair nicely with a bottle of fizzy Lambrusco from Emilia-Romagna. And when searching for the perfect match for the crunchy, creamy Arancini (breaded and fried rice balls) of Sicily, look no further than the island's juicy, fruit-forward Nero d'Avola reds or a smoky, savoury Etna Rosso.