There is a misconception in the world of wine that, while red wine is complex and built to age, white wine is simpler and always made to drink young. This is not the case. Just as there are several fresh and fruity reds that benefit from being served chilled and consumed in their youth, there are also many white wines delivering astounding complexity, clearly expressing the personality of their varietal and terroir, along with subtle or pronounced nuances of oak barrels. Let's take a look at how white wines are made, and some of the most representative styles from regions around the world.
Why are white wines white?
White wines can either be made of white grape varietals (which actually range from yellow to green in color) or red grape varietals (in which case the wine is called a "Blanc de Noir"). The major difference between white and red wine is the amount of contact between the grape juice and the grape skin during the winemaking process. White wines tend to be pressed off the skins and the must ferments without contact with the skins. The naturally-occurring chemical components in grape skins (including tannins, antioxidants and color pigments) protect the juice from oxidation and discoloration. So, when the skins are removed, the juice is more vulnerable to heat and light. This explains why white wines typically ferment under cooler temperatures in order to preserve freshness and fruity aromas.
After alcoholic fermentation, some white wines undergo an additional fermentation called malolactic fermentation, which alters the type of acid in the wine from malic to lactic. This results in a rounder, creamier mouthfeel. Before bottling, white wines are more often fined and filtered than red wines in order to prevent a cloudy appearance.
White wines of the world
Let's take a look at some of the best known white wines in the world, available in a dazzling array of styles and varietals.
White Wines of Bordeaux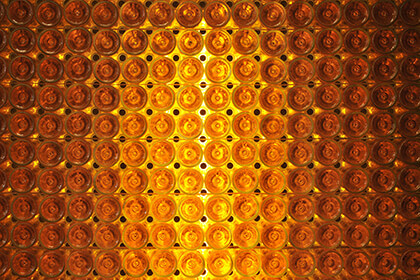 Although Bordeaux is best known for its red blends, the region also produces several high quality white wines from Provence, Semillon and Muscadelle. Some lesser-known varietals - like Colombard and Ugni Blanc – are also sometimes included, though the Semillon – Sauvignon Blanc blend is most popular. The Entre-Deux-Mers region produces mostly light and fruity styles of white wine made with Sauvignon Blanc, Semillon and Muscadelle grown in clay-limestone soils, while the Pessac-Leognan appellation specializes in rich and creamy oak-aged blends of Sauvignon Blanc and Semillon grapes from sandy soil. Undeniably the most prestigious of Bordeaux whites, however, are the luscious and indulgent sweet wines of Sauternes. These gold-hued wines are made from grapes affected by botrytis, or noble rot, which concentrates flavors (peach, pineapple, orange zest, buttery butterscotch and honey). Because of their naturally high acidity these wines age superbly, making for excellent collector's items.
White Wines of Burgundy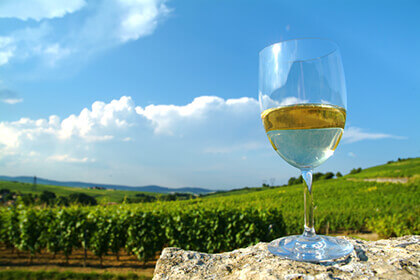 Considered one of the gold standards for white wines around the world are the stunningly complex Chardonnay wines of Burgundy . Here, the Burgundian concept of "climat" reigns supreme. Each vine plot is believed to have its very own micro-terroir and it is the winemaker's job to express this unique personality through their wines. The climats are organized into four appellation levels: Grand Cru, Premier Cru, Village appellations and regional wines. In the northernmost part of Burgundy we find Chablis , known for its cool climate and unique Kimmeridgean soil, which is made up of limestone and marine fossils. The Chardonnay wines from this appellation can easily be recognized by their lean, mineral character, tart fruit aromas and flavors of lime zest, Granny Smith apple and pear. Chablis Grand Cru are often matured in oak barrels, lending them a richer style. The Côte de Beaune > region further south produces powerful and intense Chardonnay wines with aromas if juicy fruit and flavors of apple, pear, plum and truffle. These wines are often matured in new oak barrels, resulting in well-integrated hints of vanilla, cinnamon and toasted almond.
White Wines of Loire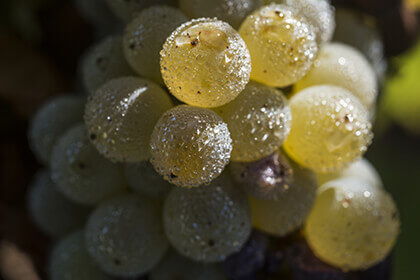 Considered the agricultural breadbasket of France, the Loire Valley is home to a bucolic landscape of lush, green hills, winding rivers and castles reminiscent of the fairy tales of yore. In the Loire region, Sauvignon Blanc reigns supreme, locally referred to as Blanc Fume ("smoky white"). The white wines of Sancerre and Pouilly-Fumé are perhaps the most emblematic Loire Valley wines made of this variety. The trio of soils found in Sancerre (Kimmeridgian clay, gravel with limestone and flint) produces Sauvignon Blanc wines with a certain chalky minerality, along with aromas of citrus, green grass and gooseberries. Meanwhile, Pouilly-Fume is best known for wines with a smoky gunflint aroma, which has become the trademark of this appellation.
White Wines of Alsace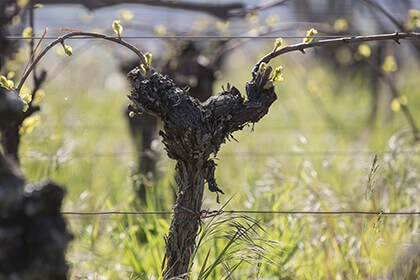 Up near the French-German border is the Alsace region, where the majority of wines produced are white. In fact, 92% of Alsace AOC wines are still white wines, but the region also produces a limited amount of Crémant d'Alsace AOC sparkling wines. In Alsace, a semi-continental climate with sunny, hot and dry growing seasons and the protection from the Vosges Mountains from rainstorms allows the grapes to ripen gradually and develop highly aromatic, floral and spicy qualities, along with a tinge of fresh acidity. Among the four main varieties grown found in Alsace, Riesling and Muscat are used to produce wines in a dry style, while Pinot Gris and Gewurztraminer make for slightly sweeter, off-dry wines. The Grand Cru wines of Alsace, like those from the Schlossberg and Osterberg plots, reveal decadent honey notes and a subtly hint of smoke as they age.
White Wines of Provence
Although the sunny Provence region of southern France is most commonly associated with rosé wines, the Mediterranean climate, coupled with the cooling effects of the Mistral wind and the huge diversity of soil types allow for the cultivation of a wide range of white varietals, including Rolle (Vermentino), Bourboulenc, Ugni Blanc (Trebbiano), Clairette, Grenache Blanc, Marsanne and Roussane. The abundance of "garrigue" or wild shrubs land lends subtle touches of lavender, juniper, rosemary and thyme to Provençal white wines. With all of these different climates, altitudes and soils, it's no wonder Provence is home to a vast number of varieties. Cassis, along the Mediterranean coast, dedicates 75% of its production to white wine, most commonly from the Marsanne and Clairette varietals. These are elegant wines with intense notes of citrus, peach and honey, along with hints of dried herbs and a touch of seaside salinity.
White Wines of Languedoc
The Languedoc region extends from the Rhone Valley in the east to the French-Spanish border in the southwest. With 300,000 hectares planted to the vine, this is France's largest wine producing region, home to a diverse patchwork of terroirs, ranging from rock sand to thick clay. One of the most popular Languedoc white blends is made with Picpoul and Grenache Blanc. Picpoul de Pinet is one of the Languedoc's few appellations devoted to white wines, best known for single-varietal Picpoul with a lip-stinging acidity, along with hints of lemon, white blossoms and wet stone.
White Wines of Corsica
Known and beloved among the French as their "Island of Beauty," Corsica is home to a colorful mosaic of climates, elevations and soil types, including granite, schist and limestone. The vines here enjoy a salty marine breeze that blows through the vineyards and a neighboring scrubland, which lends notes of heather, myrtle, mint, sage and lavender to the white wines produced there. Corsican whites are made with the flagship Vermentinu varietal (also known as Rolle or Vermentino) and are typically quite voluminous and mineral on the palate, with aromas of flowers and honey. The island also boasts several indigenous varietals, including the fragrant Biancu Gentile.
White Wines of Greece
To the east, in the Aegean Sea, the island of Santorini sparkles, with its tones of white and blue against the crystal-clear, sapphire-colored water. Here, a distinctly Mediterranean climate dominates, with warm temperatures and low rainfall. The soils are black ash and porous rock, remnants of an ancient volcanic eruption. This porous volcanic soil absorbs the mist at night and releases the moisture the following day, providing a constant source of water for the vines, which are basket-pruned to protect them against harsh island winds. Santorini's flagship white variety is Assyrtiko, which produces fresh, aromatic wines with a mouth-watering acidity, a saline minerality and flavors of lime, lemon zest and grapefruit. Light oaking lends these wines notes of toast, peach and yellow apple.
White Wines of Italy
Up in the northeast corner of Italy , the soaring slopes of Alto Adige are home to a linguistic melting pot, where three official languages are spoken (Italian, German and Ladin). Although the winegrowing region comprises just 5,200 hectares, the diversity in climate and soils, coupled with plenty of sunshine and a high degree of thermal amplitude between night and day, leads to elegant wines with beautiful acidity and a balance in flavors. Alto Adige is home to a wide array of white grape varietals, including Pinot Grigio , Pinot Bianco, Gewürztraminer, and Chardonnay , as well as some Sauvignon Blanc. While Pinot Grigio offers high acidity wines with lemon, peach, almond and honey aromas, Gewürztraminer from here tends to be more aromatic, with low acidity and intense notes of lychee, honey and ginger on the nose.
On Italy's western half, the Friuli-Venezia Giulia region is home to 10 DOC and 4 DOCG areas, producing wines from around 30 different varietals. Wines from this region range from the light and zesty Pinot Grigio and sparkling Prosecco (made with Glera) to the lean and juicy Friulano, the region's signature grape, known for wines that express Meyer lemon, ripe gooseberry, apricot and thyme, with a slightly bitter finish. And in the Piedmont region you will find Moscato d'Asti, one of the most popular sweet white wines in the world.
White Wines of Australia
Down-under in Australia , where the kangaroos roam, a wide array of white varietals are cultivated, including Chardonnay, Sauvignon Blanc, Riesling, Viognier and Semillon. Margaret River, to the southwest of Western Australia, makes some of the best Chardonnay, a wine synonymous with "Australian white wine." Some premium Chardonnay wines of Margaret River display the elegant touch of a refined use of oak, while others are more powerful and rich in flavor. Just south of the city of Melbourne, Mornington Peninsula is a cool-climate region and the source of beautiful Chardonnays. The strong winds coming off the nearby ocean ventilate the vines, keeping them disease-free throughout the growing season. The Chardonnays produced here tend to be bright and elegant, with a refreshing acidity brought about by the chilly climate. These wines will give you flavors of grapefruit, peach and nectarine, with subtle hints of oak. While Chardonnays tends to steal the attention when it comes to Australian whites, the country also produces some wonderful Semillon wines, which are citrusy and grassy in their youth, but develop gorgeous notes of honey and toast over time. The best known among Australian Semillon wines are those of the hot and humid Hunter Valley.
White Wines of New Zealand
The lush, green, mountainous landscape of New Zealand is home to 20,000 hectares of Sauvignon Blanc vines, producing wines easily recognizable by their trademark herbaceous aromas and high acidity. The fruit flavors of New Zealand Sauvignon Blanc range from citrus (lime and grapefruit) to tropical (mango, pineapple and guava). These are complemented by herbal notes of freshly cut grass, green bell pepper and lemongrass. The best known Sauvignon Blanc wines of the country are from the Marlborough region, in the northern part of the South Island. Here, the great differences between day and night temperatures result in grapes that offer high acidity, an intense varietal expression of Sauvignon Blanc, and aromas of gooseberry, passion fruit, and grass.
White Wines of South Africa
Although South Africa is commonly considered part of the New World, the history of wine production here goes back to the 1600's. One of the first South African white wines to gain international fame was Vin de Constance, a sweet wine made from Muscat Blanc à Petits Grains. Today, the white wines from this country are made to showcase the ripe fruit flavors typical of the New World, combined with a typically Old World restraint in winemaking. The flagship variety of South Africa is Chenin Blanc, an incredibly versatile grape, able to produce wines of high-quality across a wide range of styles, always reflecting their terroir of origin. The country's cooler terroirs make for citrusy wines with a refreshing acidity, while riper melon and apple notes come through in Chenin Blanc from warmer areas. Wines from coastal areas offer hints of salinity. Vines planted in granite soils make for wines with a flinty minerality, while clay-rich soils result in riper fruit and a round mouthfeel. Finally, Chenin Blanc wines produced near the shrub and heathlands of the Cape Winelands are easy to recognize by their herbaceous personality.
White Wines of Germany
When you think of Germany and white wine, what comes to mind? Riesling . As the undeniable flagship variety of Germany, Riesling grows throughout the country's thirteen wine regions. Riesling once had a reputation for producing only "sweet" wines, but many estates are now making dry Rieslings as well. Mosel, one of Germany's most distinguishes wine regions, sits on the border of France and Luxembourg. Here, the vines endure a chilly continental climate. Nevertheless, a topsoil of slate retains sufficient heat to warm the vines at night. The best sites of Mosel are those with steep, south-facing slopes rising up from the Mosel River, producing Rieslings of light to medium-bodied with intense floral aromas, along with citrus, peach and honey on the nose. These Rieslings can also be recognized by their subtle hallmark scent of petrol. The south-facing slopes of Rheingau, along the Rhine River, are protected from cold winds by the Taunus Hills and warmed by the sunshine reflected off the surface of the river. This small region is home to a medley of soils, including chalk, sand, gravel, clay and slate, along with loess and quartzite. Rieslings from Rheingau tend to be dry and slightly spicy, with hints of pear and mineral notes.
White Wines of Switzerland
While Switzerland is not officially part of the European Union, it has in recent years developed its own appellation contrôlée system, influenced by those of its neighbors. As in nearby Alsace and Germany, Switzerland produces white wines from Riesling, Pinot Gris, Pinot Blanc and Gewürztraminer. The crown jewel of Swiss whites, however, is Chasselas, a varietal which also goes by the name Gutedel in German, and Fendant, Dorin or Perlan in Switzerland's francophone southwest. The cultivation of this varietal is especially popular on the terraced slopes of the Valais, where stone walls encircle the vineyards, warming the vines by night with the warmth they absorb, even in the chillier areas at elevations of 1,150 meters. Swiss Chasselas takes its character from this terroir, offering in the glass plenty of freshness and minerality.
Pairing White Wines with Food
The vast diversity of white wines makes it impossible to generalize about the types of dishes with which they pair best. Each of the many varietals and styles has its own range of food pairings. Classic pairings include crisp, unoaked Chardonnay with roast chicken, oakier Chardonnay with smoked salmon, Chenin Blank with rose pork and prunes, Riesling with Thai green curry or spicy Szechuan dishes, and Sancerre-type Sauvignon Blanc with braised fennel and goat cheese. In general, a good place to look for good white wine pairings is in the world of cheeses, where each varietal and style finds its perfect match. Think Gewürztraminer with Morbier or Munster, Sauvignon Blanc with tangy Chèvre, Riesling and smoked Gouda…