From the fairy-tale villages lining the foothills of the Vosges mountains come wines unlike any other in France: ravishingly aromatic single-varietal expressions of the diverse Alsatian terroir. Alsace shines brightest in white, through mineral, ethereal Riesling and luscious, flowery Gewurztraminer, not to mention smoky, exotic Pinot Gris. These wines are tried and true mainstays of the holiday table, effortlessly pairing with your heartiest cold-season cravings.
The Tumultuous History of Alsace Wine
Perhaps no other wine region of modern-day France has endured as much conflict throughout its history as fertile, verdant Alsace in the northeast. The Franco-German dispute began here as far back as the 5th century and persisted for almost two millennia, with the region caught in the middle through the local conflicts of the Middle Ages, the Thirty Years' War in the 1600's and the particularly bloody Franco-German War in the 19th century. In 1870 it became a German territory but was passed back to France in 1918, then back to Germany in 1940 before finally being restored to France after World War II in 1945. This means that in the lifetime of certain Alsatian winemakers, they have had to change nationality three to four times.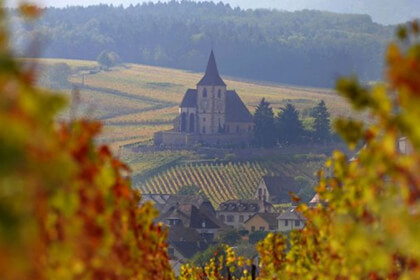 The unique history of Alsace has had an enormous effect on the region, influencing everything from the language, culture, cuisine and architecture to winemaking style. Unlike the rest of France, Alsace focuses on single-variety wines which are labelled by grape variety, and many of the grape varieties planted here are German in origin. Nevertheless, winemaking philosophy has historically been more French with full fermantation leading to dry, full-bodied wines, unlike the traditionally sweet, lighter-bodied German wines. And finally, just as in the rest of France, the region received recognition as an AOC appellation, in 1962 in the case of Alsace. Since the early 1970's, Alsace has gradually become the leader in organic and biodynamic viticulture in Europe, with 880 hectares (2,174 acres or 5.6% of the total vineyard land) certified biodynamic in 2017.
The Dry, Cool Terroir of Alsace Wine
Situated in the north-eastern corner of France, between the Vosges mountains and the Rhine River, Alsace stretches 185 kilometres (115 miles) north to south and 40 kilometres (25 miles) east to west. A short drive from the region's capital of Strasbourg is the 100-mile Alsace wine route, dotted with several picturesque villages, which are home to the region's wineries. These include Riquewihr (home to Hugel), Ribeauville (home to Trimbach), Colmar (home to Zind-Humbrecht) and Bergheim (home to Marcel Deiss).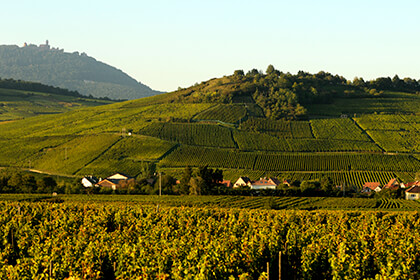 A key component of the region's terroir, the Vosges protect the vineyards of Alsace from strong westerly winds and block the passage of rainclouds, resulting in low rainfall and a dry, continental climate. Over time, the same glacial activity that first formed these mountains has also contributed to the region's complex geological makeup, characterised by a dazzling mosaic of soil types, including volcanic rock, sandstone and granite in the foothills of the mountains and clay-rich limestone on the plains below. It is on the east and south-east facing, lower hillsides of the Vosges mountains (at altitudes if 200-400 metres) that most of the best-known Alsace Grand Cru sites can be found.
The Grape Varieties, Styles and Classifications of Alsace Wine
Alsace wine is produced under three main appellations: the Alsace AOC, the Crémant d'Alsace AOC (for sparkling wines) and the Alsace Grand Cru AOC, represented by a total of 51 Grands Crus. White wine varieties make up roughly 90% of the total wine production of Alsace and can be vinified as dry or sweet. In 1983, the terms Vendanges Tardives and Sélection de Grains Nobles were introduced to categorise Alsatian sweet wines.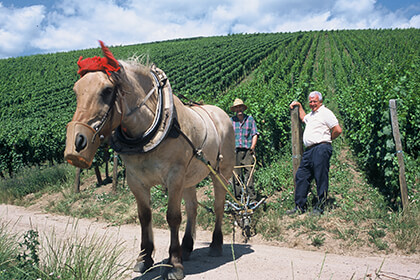 Be they dry or sweet in style, Alsace wine is known, above all, to be "aromatic," allowing it to pair readily with a wide range of cuisines. Wines from this region are easily recognised by their traditional bottle shape, a tall, thin bottle with gently sloping shoulders known as the Alsatian "flute" bottle.
The flagship grape variety of the Alsace region is Riesling, which produces steely and mineral dry white wines and sweet late-ripening wines with a remarkable potential for age (a decade or longer for top bottlings). The best versions of Alsace dry Riesling are elegant and nervy with a good balance between generosity and liveliness, offering an honest expression of their terroir of origin. The high natural acidity of Alsatian Riesling also makes it an ideal food-pairing wine, allowing it to go very well with a wide range of cuisines. Pair it with an array of seafood dishes, along with spicy, boldly flavoured foods.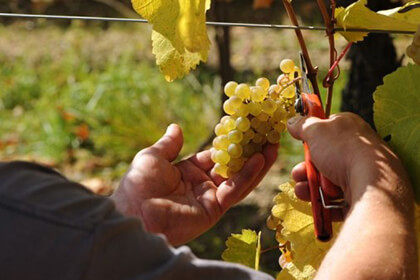 The second most planted variety of Alsace is Gewurztraminer, which produces very full-bodied, well-rounded, luscious wines with rich aromas of bacon fat, rose petals, ripe lichee and hints of spice. The ripe flavours and voluptuous texture of Gewurztraminer make this variety the perfect match to dishes with smoky flavour (like smoked sausages or smoked salmon), spicy exotic flavour (Sichuan cuisine) and pungent, funky flavour (blue cheeses). Late-ripening sweet Gewurztraminer wines tend to be quite luscious, offering an exquisite match with foie gras.
In Alsace, Pinot Gris produces full-bodied, ample and silky wines that are nevertheless dry on the palate, sometimes offering a smoky, exotic hint on the finish. These wines go very nicely with dishes sporting a bold flavour, including venison and white meats in a creamy mushroom sauce. Alsatian Pinot Gris also produces excellent sweet wines through botrytised grapes and late harvest.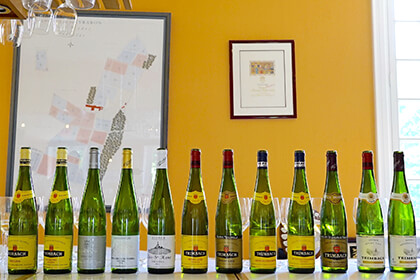 Alsace also produces a distinctive style of Muscat (or Muscat d'Alsace), which tends to blend Muscat Ottonel and Muscat Blanc a Petits Grains. These wines are usually quite delicate and flavour with a dry palate and a very grape-y aroma. While not particularly suited for long-term ageing, they often make for a delightful aperitif. These four noble grapes (Riesling, Gewurztraminer, Pinot Gris and Muscat) are accepted in the Alsace Grand Cru appellations.
A fantastic every-day Alsace white wine to be enjoyed with simpler dishes or as an aperitif is Pinot Blanc, which produces delicate, fruity wines with a great balance of flavours and pleasant acidity. Meanwhile, Sylvaner is a slightly leaner variety which can be more challenging to fully ripen but which, when harvested from the right site, can make very interesting, lively and deep wines.
While most Alsatian wines are white, the region also produces limited quantities of red wine from Pinot Noir. Alsatian Pinot Noir tends to be light-bodied and fruity with nice structure, pairing beautifully with grilled meats, cured meats or roast poultry.