A boutique Champagne House, whose effervescent cuvées are favoured among sommeliers and wine critics around the world, Billecart-Salmon is truly a champagne brand to know and know about. Tucked away on the streets of Mareuil-sur-Ay, away from the grandeur of Champagne's other luxurious Houses, Billecart-Salmon is defined by its signature style, which consistently favours finesse and delicacy over boldness and power. The story of this historic, family owned and operated house begins in 1818, with the marriage of Nicolas François Billecart and Elizabeth Salmon, both of whom came from a winemaking background. Today the House is run by Mathieu Roland-Billecart, who represents the 7th generation of the family, with the support of Jean, Francois and Antoine Roland-Billecart. Let's take a closer look at what makes Billecart-Salmon - a family, a House, a style, a brand - stand out from among the rest.
Billecart-Salmon: 200 Years of History
In the year 1818, Nicolas Francois Billecart married Elisabeth Salmon (owner of vineyards in Chouilly), bringing together their assets to form Billecart-Salmon, a medium sized Champagne House. What followed were the glory years of Champagne Billecart-Salmon, whose reputation quickly spread both within France and abroad. In the year 1900, the estate participated in the historic Exposition Universelle in Paris as a sponsor of the Palais du Champagne, where it was served to guests from around the world. The Champagne producer Billecart-Salmon went through a difficult time at the start of the 20th century, with its stocks significantly reduced during World War I. When Charles Roland-Billecart returned at the end of the war, he found only 75,000 bottles in the cellars. With plenty of hard work and great investments, he managed to revitalise this Champagneestate and to bring its production up to 217,000 bottles per year in 1936.
Having persevered through the rocky 1920's, 30's and 40's - the harsh realities of World War II and decline in sales following Prohibition in the U.S. - the historical estate came under the management of Jean Roland-Billecart, the eldest son of Charles Roland-Billecart, who carried out a revolution in quality at the Maison Billecart-Salmon. As a way to more effectively maintain the freshness and finesse of the fruit, he introduced the technique of longer fermentations at lower temperatures, as well as double cold settling. In 1964, the estate created the first vintage of their Cuvée Nicolas Francois, in homage to the founder of the House. In 1970, the estate added yet another exquisite cuvée to its portfolio: their non-vintage Brut Rosé.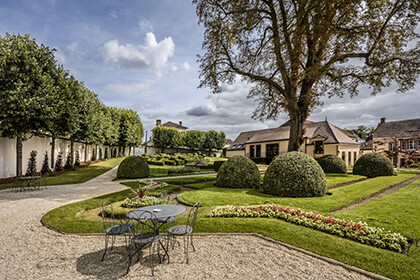 In 1993, the estate was taken over by Francois Rolland-Billecart, the eldest son of Jean Roland-Billecart and the 6th generation of Billecart men to run the estate. One of his very first actions was to buy back the estate's bottles from supermarkets as a way to reposition the brand and shift the focus to independent quality retailers and fine dining restaurants. The Billecart-Salmon estate's most famous prestige cuvée, Clos Saint-Hilaire, was born in the remarkable 1995 vintage and has been produced ever since, though in very small quantities of 3,500 to 7,500 bottles per vintage. As a shift toward a parcel-specific approach to winemaking, Francois commissioned the construction of a new cuverie. Finished in the year 2000, this new cellar is home to several small thermo-regulated stainless steel vats, each meant to vinify fruit from a single grape variety from or parcel. And to balance this modern approach to winemaking, the estate also completed a large wine cellar, housing over 400 small and 2 large oak casks, which are today used to enhance the style of the estate's vintage cuvées and its Brut Sous Bois. In 2018, Billecart-Salmon also added to its grounds a new chai a foudres, home to 24 large oak casks of 80 hectolitres each.
Having celebrated its two-hundredth anniversary in 2018, the Billecart-Salmon House is today run by Mathieu Roland-Billecart, who represents the 7th generation of the family at the helm of the estate. In doing so he is supported by Jean and Francois Roland-Billecart as well as Antoine Roland-Billecart, who serves as Deputy General Manager of the estate. Each member of the family has brought his own signature touch to the Billecart-Salmon Champagne House, while also remaining loyal to the style set forth by its founder.
The Distinctive Style of Billecart-Salmon
Founded in the 1800's, focused on quality, and boasting fruit sourced from the greatest terroirs of Champagne... Yes, but what sets Billecart-Salmon as a producer, apart from the rest of the Champagne Houses, which, on the surface, appear to share all of these characteristics? The answer lies in the estate's signature style, a family secret closely-guarded and continually perfected over the course of 7 generations. The cuvées of Billecart-Salmon are delicate, fresh and elegant first, powerful second. To achieve this house style, grapes are picked early to lock in freshness. In the high-tech winery, a small price every care to pay to prevent oxidation.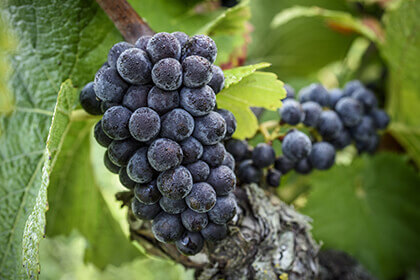 While several of the most famous Champagne Houses focus their blends on Chardonnay and Pinot Noir, Billecart-Salmon highlights the Pinot Meunier variety, which comprises almost 45 percent of their Brut Reserve blend, available at a lower price range. Since 1958, the House has relied on the practice of using very cold fermentation (under 13º C) for a long period of 3 weeks to one month, following a double cold settling. Double cold settling involves a first primary cold settling of the pressed juice during which the heavier solids fall to the bottom of the tank. Next, the juice is racked into clean tanks and chilled at to an even colder temperature, which eliminates wild yeast and any remaining heavy elements in the wine. The yeast added to the juice after cold settling is a special strain adapted to low temperature alcoholic fermentation. This process is believed to benefit Pinot Meunier in particular, helping the fruit to maintain its delicate fruity character. Cellar Master Floren Nys, who took over recently from Francois Domi, believes that when treated right, this varietal can offer great texture and creaminess, as well as structure to support Chardonnay.
The first 100 litres of pressed wine is discarded, as is the taille (tail), which is sometimes used to add a coarser character to the wine. The wine is settled and racked twice to produce a clear must with a very fine texture without filtration or centrifuge. Malolactic fermentation is used in full or partially for the cuvees of Billecart-Salmon. As explained by Roland-Billecart, malolactic fermentation serves to bring complexity to a cuvée, by transforming the crisp and fresh malic acid into something creamier and smoother - lactic acid. While full malolactic fermentation serves some of their wines (the Brut Réserve, for example) very well, their Blanc de Blancs Grand Cru already gets plenty of complexity from all of the crus included in the blend and therefore requires only partial malolactic fermentation. And to highlight this natural complexity even further, the dosage is often kept very low. The cuvees are aged at a constant temperature of 12º C. Vintage cuvées age peacefully in the new chai, built to hold over 450 oak barrels. In the underground labyrinth of chalk tunnels, the champagnes of Billecart-Salmon age peacefully, spending three to four years before release for the non-vintage champagnes and ten years or more for the vintage cuvees. It is only over time has passed that these precious champagnes can reveal the full extent of their personality.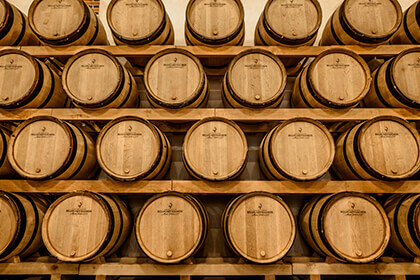 Today, the cuvées of Billecart-Salmon are produced from a total of 15 hectares of vineyards belonging to the estate (or 37 acres), as well as 300 hectares (741 acres) of grower vines.
A Portfolio of Fine Champagnes by Billecart-Salmon
The Billecart-Salmon range is quite broad in terms of price and style, with each of their cuvées revealing a unique personality, especially defined through its dosage. The Billecart-Salmon Brut Reserve blends 30% Pinot Noir from the Montagne de Reims and the Grande Vallée de la Marne, 30% Chardonnay and 40% Pinot Meunier from the Vallée de la Marne and Epernay. Produced from 50-60% reserve wines, the Brut Reserve has a dosage of 8 grams per litre and is aged on lees for 30 months. This champagne reveals on the nose floral and fruity aromas, accented by subtle touches of biscuit and baked goods, and a delicate texture with white fruits (like ripe pears) on the palate. An excellent aperitif or companion to a wide range of dishes. Billecart-Salmon also produced a Demi-Sec champagne, identical to the Brut Reserve but with a dosage of 40 grams per litre. With its gorgeous nose of white flowers and buttered brioche, coupled with a balance of sugar, alcohol and acidity on the palate, this is the ideal champagne to pair with chocolate desserts.
The estate's celebrated Brut Rosé blends around 30% Pinot Meunier with up to 50% Chardonnay, leaving only a small amount for Pinot Noir. The Billecart-Salmon Brut Rosé receives a dosage of 9 grams per litre, and undergoes full malolactic fermentation, followed by 36 months of lees-ageing. Red berry flavours (raspberries and strawberries) about on the palate, which is wrapped in a creamy smoothness. This is the perfect rosé champagne to pair with fresh seafood dishes, a shrimp cocktail or wild salmon filet, for example.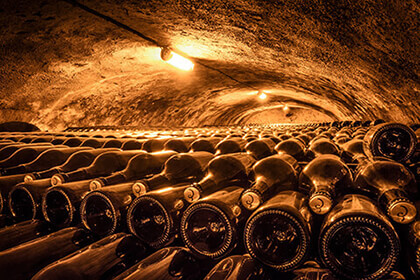 The Billecart-Salmon Blanc de Blancs is a 100% Chardonnay made with fruit harvested in two different vintages from the four great Grand Cru terroirs of the Côte des Blancs (Avize, Chouilly, Cramant and Mesnil-sur-Oger). Dosed with 8 grams per litre and aged 4 to 5 years on lees, this exquisite Chardonnay champagne reveals a chalky, mineral style that makes it the perfect pairing to raw seafood in the sashimi or carpaccio style. The Billecart-Salmon Extra Brut is a pure and natural thing of beauty, a champagne that really goes back to the root of it all. Blending a significant 40% Pinot Meunier, 30% Pinot Noir and 30% Chardonnay and this is a champagne aged on lees for 40 month with no sugar added in the dosage. With its chiselled mineral tension and aromas of orchard fruits and fresh citrus, this champagne will pair beautifully with Oysters Rockefeller or grilled scallops. Expressing yet another style is the Billecart-Salmon Brut Sous Bois, so named because it is entirely vinified in oak. Dosed with 7 grams per litre, this champagne presents a burst of grilled, buttered brioche and toffee flavours, making it ideal with poultry dishes and roasted mushrooms. Billecart-Salmon also produces a Vintage champagne with a dosage of 4 grams per litre, aged on lees for 9 to 10 years.
In certain vintages, the Champagne House produces certain cuvées in honour of members of the Billecart family. These include vintages 2002 and 2006 of the Nicolas Francois cuvée, the 2007 vintage of the rosé Elisabeth Salmon and the 2007 Blanc de Blancs Cuvée Louis Salmon. While their specific characteristics will depend largely on vintage, these cuvées have in common their remarkable potential for age, estimated to be over 10 years.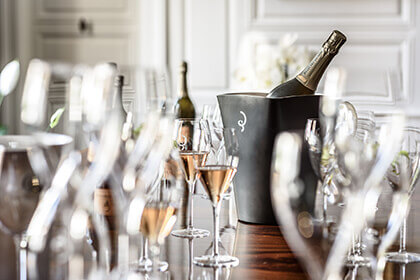 Finally, the Billecart-Salmon House's prestige Le Clos Saint Hilaire cuvee is a Blanc de Noirs, created from grapes that are sourced from a 1-hectare plot of Pinot Noir planted in 1964 and owned by the family estate. This very special jewel of a vineyard is managed with biodynamic practices, without the use of herbicides or pesticides, and with yield kept purposefully low to produce only around 7,000 (numbered) bottles per year. The wine age in small Burgundian oak barrels in the House's underground limestone cellars.