Bodegas Protos is perfectly named with its moniker meaning "first" in Greek. For it was the very first winery set up in Ribera del Duero, which brought winemaking to the region. Quality and innovation have also been the estate's first priorities from the vineyards to the winey. It was indeed because of this commitment to quality that helped the Ribera del Duero become recognized as its own Denominación de Origen (DO) in 1982. From its illustrious past to its prosperous present, Bodegas Protos strives to vault into a flourishing future with its "quality above all" philosophy.
The "Founding Father" of the Ribera del Duero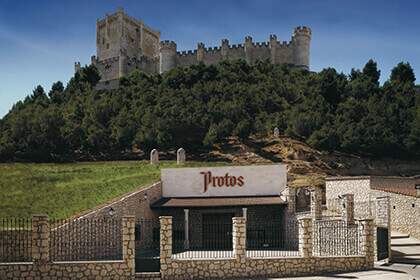 Bodegas Protos has been a legend in the Ribera del Duero since 1927. A group of eleven local vine growers full of boldness and love set up the estate with the intent of sharing their appreciation of the region's terroir and its wines with the rest of the world. The bodega's commitment in striving to be the "first" was recognized with gold medals for its wines at the World Exposition in Barcelona, which brought it to the international stage with its exquisite Tempranillo red wines. Since then, the region's oldest winery has never stood still and leaps into the future at every chance it gets: for it expanded into Rueda in 2006 to orchestrate top-end Verdejo white wines. As the estate continued to grow along with its reputation, there was a need for more space, so a brand-new cellar opened in 2008. This Richard Rogers-designed masterpiece connects with the old tunnels underneath the Peñafiel Castle to give a 2.5 kilometre underground cellar. This expansion of the Bodegas Protos brand has given it a global reach with its wines exported to over 91 countries spanning five continents. Yet at the same time, the estate is passionate about connecting with wine lovers face-to-face, and so it welcomes over 40,000 visitors to its Peñafiel facilities every year. The efforts of Bodegas Protos to shine a spotlight on the Ribera del Duero region has essentially made its name synonymous with the region itself!
"Being First" in the Vineyards and Winery with "R+D+I"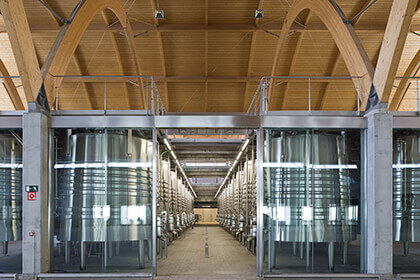 The two most defining features that come to mind when you're swirling and sipping from a glass of wine from the Bodegas Protos are quality and innovation. The estate's guiding philosophy is "quality above all", and it supports this through the combination of research, development and innovation (R+D+I). Its technical team of vineyard technicians, oenologists, engineers and chemists all work together with the single goal of creating the best wines through continued improvement. Technical Director and Chief Oenologist, Marilena Bonilla, leads this talented team of dedicated professionals. This pursuit of the highest quality in all of their wines is no easy task, especially since the estate covers 1,400 hectares of vineyards. Nonetheless, the estate takes its very first step in striving for excellence in the Ribera del Duero vineyards that span across the Valladolid, Burgos and Segovia provinces. There are numerous plots dotted across the rolling landscape, and each one has an average size of about one hectare. These south-facing hillsides growing with Tempranillo vines are at elevations ranging from 750 to 800 meters for those vineyards in the valleys, and at 900 meters for those on the plateaus. The vines experience a continental climate with hot, dry summers and long, cold winters. Moreover, the large temperature variations between night and day help slowly ripen the grapes with perfectly balanced sugars, acidity and tannins. For the soils in the Ribera del Duero, you'll find those Tempranillo vines thriving in diverse soils that include clay and sand with layers of limestone, marl and chalk.
The estate's moto of ser primero ("being first") is not only apparent in their exhaustive control of its vineyards, but also in its winery. Once the perfectly ripened berries are hand-harvested, they are meticulously sorted so that only the healthiest grapes enter the fermentation tanks. To bring out Tempranillo's gorgeous ruby red colour and fine tannins, the grape skins are kept in contact with the juice while fermentation takes places, which can last from 15 to 28 days depending on the desired wine. For some of the wines, fermentation can also take place in new French oak barrels. Oak ageing also plays an important role in the wines from Bodegas Protos, which uses both French and American barrels to give superbly integrated oaky flavours like vanilla, toast, chocolate and coffee in its wines.
The Innovatively Superb Wines from Bodegas Protos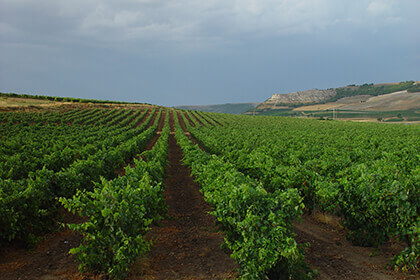 Bodegas Protos offers a wide range of wines from different varieties and ageing requirements like Crianza, Reserva and Gran Reserva. Among these luminous, perfected cuvées, the Protos' 27 can't be missed. This 100% Tempranillo wine comes from vineyards that are more than 50-years-old, and it's aged in French oak barrels for 16 months. The striking deep cherry colour with garnet reflections entices you to swirl your glass that then reveals an intense, complex, yet elegant, nose. Your glass overflows with black fruit, toast and vanilla aromas. The palette offers perfect balance with concentrated fruit and roundness. A wine that's ideal for long-term ageing. The Reserva wine is also another must-have tasting experience. This 100% Tempranillo is from vines that are more than 40-years-old with some spectacular ageing on it. It's spent 18 months in French and American oak barrels and then 18 months resting in bottle. The brilliant dark cherry colour with garnet hues shimmers in its glass. The compelling nose offers black fruit and toasty notes with a touch of spice and cream as well. The fruity and spicy palate is structured with round tannins and balanced acidity that extend to give a lingering finish. For those with a thirst for Tempranillo wines from one of Spain's most pre-eminent regions, Bodegas Protos can definitely satisfy that desire.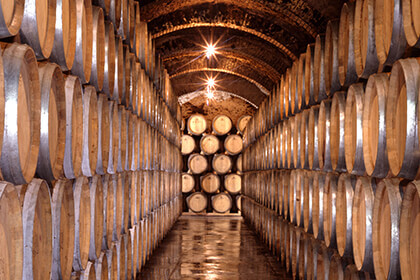 Bodegas Protos is not one to rest on its laurels. Rather, its conscientious efforts in its vineyards and wineries through its "quality above all" approach promises to continue offering timeless, yet contemporary, wines to all those enjoying them with the same boldness and love that the estate's founders had for them.