A Blessed Limestone Terroir in Saint-Emilion
In fact, terroir is key at this jewelry-box-sized property, a Grand Cru Classe of the Saint-Emilion appellation. Its classification has been recognised since 1954 and is one of the most prestigious of Bordeaux. The vines of the estate are planted on the "Sarpe plateau," the sun-soaked southeast-facing slopes of a limestone hillside with a thin layer of clay covering the surface. These limestone soils are rich in calcium, retaining plenty of water even during the dry months of summer and contributing mineral nutrients to aid the development of the vine. Best suited to this type of soil is thin-skinned Merlot, which occupies 85% of the parcel. The remaining 15% is planted with Cabernet Franc.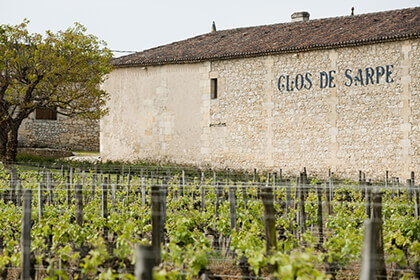 While one-third of the vines were planted between 10 and 25 years ago, the remaining two-thirds are very old, between 55 to 80 years, making them some of the oldest in the appellation. These mostly old vines are planted at a density of 5, 500 vines per hectare and produce a very limited yield of only around 25 hectolitres per hectare. At Chateau Clos de Sarpe, the focus is very clearly not on quantity. Their wines are very rare and highly concentrated expressions of Saint Emilion's clay-limestone terroir, a treat for those who love wines of high quality and authenticity.
Chateau Clos de Sarpe: Respecting the Rhythms of Nature
In order to best preserve the character of this very special terroir for generations to come, Chateau Clos de Sarpe practices reasonable agriculture without the use of harmful chemical additives out in the vineyards. The vines are encouraged to produce high quality, very concentrated fruit in a natural way, through extensive branch removal, de-budding, grape and leaf thinning, all done manually. Having eliminated pesticides, insecticides, herbicides and chemical botrytis treatment, the vineyard team uses only the natural and harmless Bordeaux mixture of copper sulphate and calcium oxide in water to prevent the onset of mildew and other fungal attacks. The harvest is quite late, to ensure the maximum concentration of flavours in the fruit, and is carried out by hand.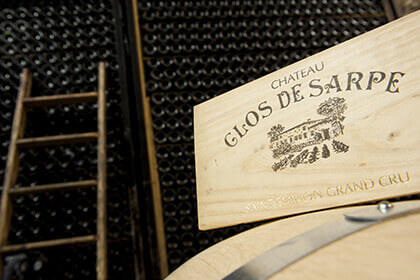 Chateau Clos de Sarpe: Winemaking that Blends Modernity with Tradition
The respectful and patient approach applied in the vineyard of Chateau Clos de Sarpe continues at the winery, where very modern practices meet traditional ones. After an eight to ten day maceration, the grapes undergo a long, very gradual four to five week fermentation and maceration with micro-oxygenation in cement and stainless steel vats. This slow, meticulous, gradual extraction results in wines of intense concentration and an impressive capacity for age, due to high levels of tannin. These tannins are then soften and refined during 16-18 months of maturation in 100% new oak barrels. The result can only be described as the unmistakable signature style of Chateau Clos de Sarpe, a powerful expression of a blessed terroir, a wine rich with notes of black fruit, smoke and licorice. In 1997, the estate released the first vintage if second wine, Clos de Sarpe, which has distinguished itself with its elegance, flexibility and its warm, aromatic finish.
Rediscovering Clos de Sarpe
During the week of Wine Futures (or En Primeurs), an annual event taking place in the month of April in Bordeaux each year, Clos de Sarpe welcomed Lisa Perrotti-Brown, Master of Wine and journalist for The Wine Advocate. Her article, published on May 31, 2018 provides a detailed account of her visit to the property, during which time she focused her attention on understanding the unique history of the property, the distinct characteristics of the terroir and the evolution of the estate's two great wines. In her article, she shared her experience touring the small winery, whose concrete tanks, purchased in 1950, she describes as "retro-chic" in style. She wrote about the old vines and the incredible concentration achieved in their limited yields of only 25 hectolitres per hectare. This concentration is, nevertheless, balanced with a low pH, equating to a longevity in terms of ageing in the bottle and a remarkable freshness maintained despite age.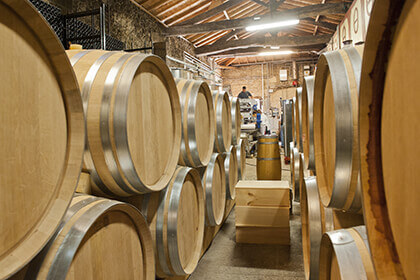 During her time at Clos de Sarpe, Lisa Perrotti-Brown tasted the estate's Grand Vin, from vintages 2015 through 1998, as well the 1990 and 1945. She was particularly impressed with the 2010 vintage, which she described as "full-bodied, rich, opulent and oh-so-seductive." The "explosive freshness" and "epically long finish" of this vintage earned it a 98/100 rating. She also greatly enjoyed the Clos de Sarpe 2009, whose "drop-dead gorgeous nose" offered here crème de cassis, blackberry pie and black plum preserves, as well as exotic spices, licorice and espresso. A wine with "exquisitely ripe, silky tannins," the 2009 vintage received 96 points on her rating. The last wine she tasted was the 1945 vintage, made by Jean-Guy Beyney's grandfather. A historical vintage whose harvest saw the end of World War II, the Clos de Sarpe 1945 proved to be an "intellectually stimulating" wine, opening slowly to reveal notes of exotic spices, black truffle, incense and cinnamon, along with dried figs and prunes. Over the decades spent in bottle, this old vintage developed a "soft, silt-like texture," and left Perrotti-Brown with a finish of "amazing persistence."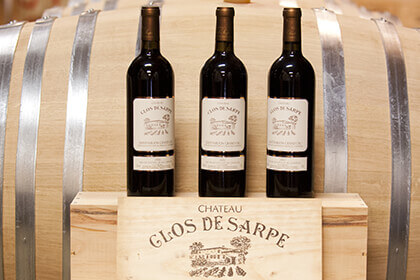 In her article Lisa Perrotti-Brown encourages her readers to discover the fascinating history of Chateau Clos de Sarpe through its wines. Sharing a rare bottle of Clos de Sarpe is a special experience indeed. This is a wine made from a limited yield of fruit, highly concentrated in flavour, grown on very old vines in a precious terroir, on a very small vineyard on the Sarpe plateau. While the ideal sun exposure and remarkably rich soil already help guarantee an excellent quality in the fruit, the effects of terroir are allowed to shine to the fullest through a biodynamic treatment of the vines, with minimal human intervention. This philosophy is also apparent in the winemaking, which stresses a patient, gradual approach to extraction in order to get the most out of the precious grape skins. In the tradition of the great wines of Bordeaux, the Grand Vin of Chateau Clos de Sarpe is aged in new French oak in the highest quality, helping round out the tannins in the wine and prepare it for many years of ageing in the bottle.