You may be surprised to know that the Romans were the first ones to start drinking Italy's gracefully frothy Prosecco back in the days of Pliny the Elder, one of Rome's greatest writers who declared the bubbly as one of the finest wines to grace the tables of Roman dignitaries. They believed Prosecco was the answer to living a longer life! Since then, Prosecco has taken the world by storm with its blissful bubbles to such an extent that there'll be about 600 million bottles produced in 2018!
Is Prosecco a Grape or a Wine?
There's actually a town called Prosecco near the Italian-Slovenian border, and many believe this is where Glera, the green-skinned grape that makes this enduring effervescent, first had its origins. From there, it made its way into the soaring hills between Valdobbiadene and Conegliano – the classic production zone in the Veneto region with over 6,000 hectares of vines. For the longest time, Glera and Prosecco were used interchangeably as the name for the grape variety. However, Prosecco is now reserved exclusively for the names of the sparkling wines under the official Prosecco appellation titles. The global boom in Prosecco has led to many imitations of the style outside of the region, so Italian regulatory bodies sought legal protection for the name "Prosecco" in 2009. Since then, the European Union has made it illegal to put Prosecco on wine labels unless you're a producer from north-eastern Italy.
Keep in mind that there's not just one style of Prosecco. It actually comes in three different styles according to its level of "perlage" – the Italian word for bubbles. For the bubbliest of sparklings, there's "spumante" (fully sparkling), and for the second-most fizziest wines, there's "frizzante" (fizzy). The last style is "tranquillo" that is reserved for still wines. When you have a fully sparkling Prosecco, you should be very careful when popping open the bottle since each bottle has about two to four atmospheres of pressure. This means that a bottle of Prosecco has the same amount of pressure as a car tyre! Champagne, however, has about five to seven atmospheres of pressure, and this is equivalent to the pressure in the tyres of a double-decker bus! Regardless of your bottle of bubbly, watch out for your eyes when the corks fly!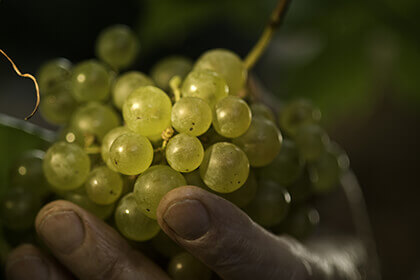 Valdobbiadene Prosecco Superiore: The Perfect Partner for Sparkling Wine
The Glera grape itself is a highly productive, late-ripening variety. It's the ideal sparkling wine grape since it's high in acidity and offers a fairly neutral palate. When you take a whiff of this fruity bubbly, you'll notice your tulip glass, the best glass for enjoying Prosecco, is full of green apple, pear, white peach and melon aromas along with floral honeysuckle notes. This light-bodied, low-alcohol wine is perfect for an aperitif or a refreshing pick-me-up after a searing hot summer day. It's a perfect palate cleanser alongside dishes with a slightly spicy flare to them, including Southeast Asian chicken, tofu, shrimp or pork recipes. Prosecco's fruity flavours and bubbles pairs exceedingly well with the peppery seasonings in Thai, Vietnamese, Hong Kong, and Singaporean cuisine.
How the Bubbly Gets into Prosecco
Though Prosecco and Champagne both have bubbles streaming up to the surface of their glasses, those bubbles come from different production methods. Most Prosecco use the Charmat-Martinotti method in which secondary fermentation takes places in pressurized, temperature-controlled stainless steel tanks. This means that base wines are added to the tank with a sugar and yeast mixture – this mixture is known as "tirage". As the wine goes through its second fermentation, the fermentation releases carbon dioxide and this causes the tank to pressurize and infuse the wine with its sparkle. Once out of the tank, the sparkling wine is filtered and then dosed with "expedition liqueur" – a mixture of sugar and wine to determine the final level of sweetness in the wine or to help balance out the wine's naturally high acidity. Lastly, the wine is bottled without any ageing. Using this "tank method" preserves the Glera's varietal character to give fresher aromas and flavours. Since this process is much more affordable, it's a popular method used for lower quality wines. This isn't to say that the tank method is a low quality production method. It's actually used for making premium quality sparkling wines as well.
When it comes to champagne making, however, the major difference is that secondary fermentation takes place in the bottle that the cuvée will be sold in. This method is commonly known as the traditional method or méthode champenoise (champagne method). Prosecco can also use the traditional method as well, but this is reserved only for the Prosecco Superiore DOCG wines.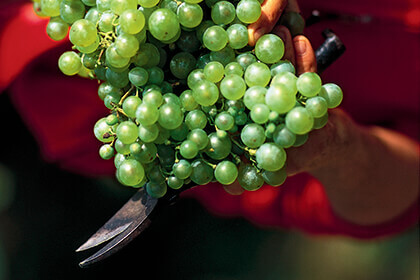 Climbing up the Prosecco Quality Pyramid
When trying to choose a Prosecco, it's important to keep in mind that there's a quite the range in quality levels among them. You need to take a close look at the label to figure out just how good you'd like your Prosecco to be. Prosecco offer five different quality levels. Starting with the most common quality level, Prosecco DOC can be produced in nine provinces bridging from the Veneto to the Friuli-Venezia Giuiflia regions with most of the vineyards on low-lying plains. For more concentrated sparkling wines, you need to head to the hills where you can find Prosecco Conegliano Valdobbiadene Superiore DOCG. The Prosecco wines are blended from a smaller, more focused area of vines between Valdobbiadene and Conegliano that are exclusively on a steep hillside. This means that everything from pruning to harvesting has to be done manually, so this contributes to the higher quality in these bubbly pleasures. For more high quality Prosecco, you can also head across the river from the Conegliano-Valdobbiadene region to Colli Asolani DOCG where this smaller hillside region also makes exceptional effervescence.
Moving up to Prosecco Conegliano Valdobbiadene Superiore Rive DOCG on the quality pyramid, this area has "rive" delimitations – subzones named after where the grapes are grown that underscore the unique micro-climates and terroirs. There are 43 communes that can use this designation on their labels. Sitting at the very top of the Prosecco pyramid, Valdobbiadene Superiore di Cartizze DOCG produces the highest quality of fizzy delightfulness – or the "Grand Cru" of Prosecco. The vines anchor themselves to the 300-metre Cartizze hill that produces limited yields from specific communes or vineyards within Conegliano-Valdobbiadene. Needless to say, this micro-region has one of the best terroirs for Prosecco in the world, so you can expect the quality to match it.
Sweetness levels is also another point to keep in mind when deciding on which Prosecco you'd like to enjoy. Though most Prosecco comes in a dry style, or "brut", the fruity flavours can make the wines seem sweeter than they actually are. Brut is indeed the most common sweetness level that has 0-12 g/L of residual sugar (up to half a gram of sugar per glass), but if you prefer your bubblies sweeter, you can also find "extra dry" with 12-17 g/ RS (a little over half a gram of sugar per glass) or even the sweeter "dry" style with 17-32 g/L RS (up to one gram of sugar per glass).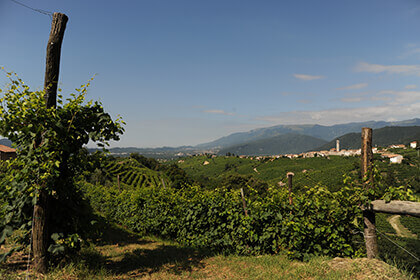 The Kings of the Prosecco Hills
One of the most acclaimed estates is none other than Bisol that has been producing the purest incarnation of Prosecco from the Valdobbiadene hills sine 1542. One family name crossing five centuries of history and 21 generations tend to Prosecco's spiritual terroir in the of the Conegliano Valdobbiadene region. Among the best of its premium sparkling collection include the Cartizze Dry Valdobbiadene Superiore di Cartizze DOCG with all of its fruity apple, peach and pear notes. In addition to the Bisol brand upper-tier wines, there are those at the entry-level sold under the Desiderio Jeio brand. Another prestigious ambassadors for the appellation is the ancient Adami estate that dates back to 1606. Abele Adami purchased this natural amphitheatre vineyard in 1920, and since then, the family has produced beautifully clean, caressing and carefully constructed balanced sparklings. Winemakers Armando and Franco Adami approach their winemaking a bit more differently in that their pressings have more colloids – suspended particles that help integrate aromas in wines. With the wine on lees for three months and a gentle decanting before filtering, the Proseccos end up with more body and a more plush mouthfeel as in the estate's Adami Col Credas Brut Valdobbiadene DOCG Prosecco Superiore Rive di Farra di Soligo.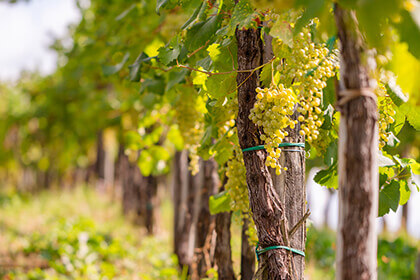 Another Prosecco crown jewel is the Nino Franco estate that Antonio Franco founded in Valdobbiadene in 1919. Primo Franco, who took over in 1982 and modernised the winery, represents the estate's third generation. The Primo Franco Valdobbiadene Prosecco Superiore DOCG wines are indeed the most interesting effervescents from the Nino Franco range. Not only are they from 100 per cent Glera grapes, but they also are made as vintage wines – a rarity since Prosecco is not known for its ageing capacity. These fizzy pleasures are explode with exotic fruitiness and velvety smoothness. Last but not least, the acclaimed Villa Sandi with its Palladian-style villa dates back to 1622. The surrounding Italian gardens and eighteenth century underground cellars are a living legacy to its past. The Moretti Polegato family passionately tends to their vineyards with the belief that their blissful Proseccos should have absolute freshness. The Villa Sandi Valdobbiadene Prosecco Superiore Extra Dry epitomizes the best of their range with its easy-drinking style full of floral and ripe apple notes.
Prosecco is indeed like no other sparkling wine. This blissfully lively fizz caresses across your palate with all of its fruity effervescence to leave you thirsting for just a bit more at the end of an exhilarating day or at the beginning of an enchanting evening.