The last Empress of France first recognized the noble terroir of Finca La Emperatriz that crowns the northwest part of the Rioja DOCa. The Hernáiz family also understands how its meticulously plotted vineyards offers a wealth of nuances in their perfectly crafted, terroir-driven wines that are fit for royalty and wine lovers across the globe.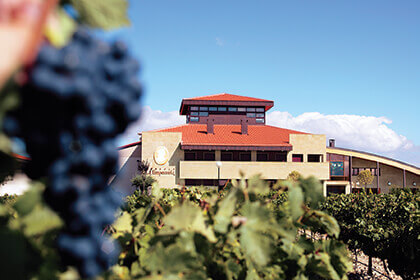 The Spirit of Finca La Emperatriz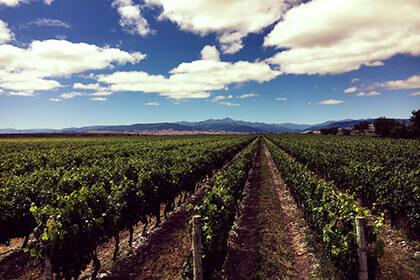 Finca La Emperatriz has a majestic past going all the way back to Eugenia de Montijo, the wife of Napoleon III and the last Empress of France. For the name "Finca La Emperatriz" means "estate of the empress" – and this vineyard actually belonged to the Empress herself. She had recognized the fine quality in her wines when she decided to enter one of them in the 1878 Universal Exposition in Paris, and it won an award! Fast-forward to 1996, the Hernáiz brothers, Eduardo and Víctor, purchased the estate, and decided to call their company Bodegas la Emperatriz S.L.U. after the piece of land the Empress of France had once owned in the village of Baños de Rioja. They took over the vineyard with the goal of recovering the property's old vines and planting new ones so that they could create quality wines under the Finca La Emperatriz label. By the time 2017 rolled around, however, the Hernáiz brothers had new wines and new vineyards that went beyond their original estate, so they re-named their company with an umbrella name – Viñedos Hermanos Hernáiz, which means "Vineyards of the Hernáíz Brothers". The brothers continue to be the momentum behind the brand with Eduardo running the vineyard and cellar teams. They believe that the true strength of Finca La Emperatriz is that it embodies the spirit of each person who works alongside them to create their hand-crafted, terroir-driven wines. This spirit has found critical acclaim from James Suckling, one of the world's most influential wine critics, and the legendary Robert Parker's Wine Advocate publication.
Perfectly Plotted Vines and Personalized Winemaking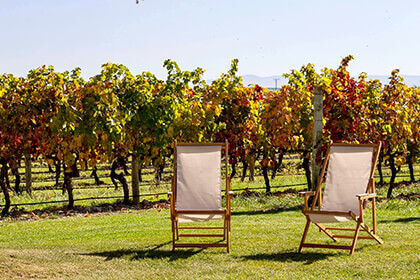 Finca La Emperatriz is at the northwestern tip of Rioja DOCa where it sits on one of the highest plateaus in the Rioja Alta sub-region at 570 meters above sea level. This places the estate's vineyards in a unique microclimate. It has a continental climate, so you have those scorching hot summers days and freezing winter nights. However, the Bay of Biscay to the north tempers these extremes with its maritime influence. The Rioja Alta's unique terroir brings not only a lovely elegance and minerality to Finca La Emperatriz's wines, but also contributes to their potential for ageing. As with all great wines, the best ones come from poor soils like the ones in Rioja Alta. These soils consist of a top layer of boulder-like rocks – you definitely need both hands to pick up on of them. They are the result of erosion from the nearby Sierra de la Demanda sub-mountain range. Hiding underneath this surface, you'll find a sandy-loam subsoil. These soils are a great help in the vineyards since they facilitate drainage and they retain heat from the sun. This extra heat keeps the vines warm during chilly nights and also aids in ripening the grapes. The combination of this sublime terroir and microclimate is perfect for the Tempranillo vines. These berries eventually offer medium- to full-bodied wines that beautifully balance fruitiness and earthiness with chewy tannins.
Finca La Emperatriz prides itself on its 101-hectare vineyard plot division. The variety, the rootstock and the age of the vines gives each plot its own specific set of characteristics. Eduardo and Victor Hernáiz decided to have this type of vineyard organization so that they could craft wines with unique personalities. One type of wine they produce is from a variety of plots, known as "classic coupage". This allows them to focus on the complexity of different grape bunches to make wines that are round, balanced and delectable. Another type is from just one "single plot", and they can express the specific characteristics of only that one parcel in the cuvée.
Once the hand-harvested berries reach the winery, they are destined for their own personalised fermentation and ageing process depending on their parcel. For fermentation, the grapes can end up in square wooden vats, stainless steel tanks or open-topped barrels. For ageing, both new and old French and American oak barrels are used in different proportions. They also remain in oak for varying periods of times: both Crianza and Reserva wines get at least one year in oak while Gran Reserva cuvées must remain for a minimum of two years. Afterwards, they also have to stay put in bottle for a while to allow them to develop more of their personality. Crianza has one year, Reserva gets two years, and Gran Reserva sees three years. All of this precise attention paid to oak and bottle ageing gives the wines well-integrated tannins and added toastiness and spiciness.
The Spirited Wines from Finca la Emperatriz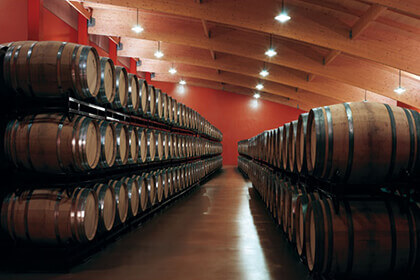 All of the wines of Finca la Emperatriz are all worthy of a swirl and a sip, but the Finca la Emperatriz Reserves from the Rioja Alta are a truly pleasurable tasting experience that can't be missed. You can expect these to be masterfully and beautifully blended with Tempranillo taking up almost all of the cuvée with nuances of Garnacha, Viura and Graciano added to it. Expect oaky aromas and flavours with the Reserves since they've been aged in American and French oak barrels on average for 22 months. You'll notice a very brilliant bright ruby colour that shimmers in the glass that overflows with red fruit, minty and oaky aromas. The palate reveals a medium-bodied red enveloped in ample red fruit and firm tannins, and this makes it perfect for potential ageing. Other must haves from Finca la Emperatriz are the 100% Tempranillo Finca la Emperatriz Terruño from Rioja Alta. You can also expect beautifully integrated oak since they have spent on average 14 months in French and American barrels, both new and second-use ones. This Tempranillo wine reveals its characteristic deep ruby colour, and a full bouquet of ripe black fruit and black pepper aromas. The savoury, round palate offers firm tannins and a long finish. Another perfectly crafted wine that will reveal more of its personality as it ages in bottle.
The beautifully orchestrated wines from Finca la Emperatriz are indeed the crown jewels of the Rioja Alta. For each and every one of these gems shimmers and sparkles as they are swirled in their glasses to reveal the fragrant spirit of the Finca la Emperatriz vineyards.