Ernest Hemingway wrote about his glass of Corsican wine in his 'A Moveable Feast' as one of 'great authority'. Domaine Comte Abbatucci is indeed creating wines of 'great authority', as well as pioneering a renaissance of Corsica's native grape varieties. The estate's endless commitment to biodynamic viticulture produces superbly pure and innovative wines that reflect the island's enchanting terroir and unique varieties.
Protecting Heritage and Continuing Legacy
As you wander through Corsica's Mediterranean-hugging capital, Ajaccio, you can notice the name Abbatucci posted on the names of streets, monuments and plazas. The name is actually from General Jean-Charles Abbatucci who was one of the heroes form the French Revolution, and fought alongside Napoléon Bonaparte. Antoine Abbatucci, a direct descendant of the General and former president of Corsica's Chamber of Agriculture in the 1960s, was one of the island's influential pioneers who helped bring Corsica centre stage with its extraordinary and distinctive wines. He did this through creating an indigenous varietal renaissance. He observed that many villagers gave up their farming lifestyles in search of more opportunities along the coast in the bigger towns and cities. Unfortunately, many of these vineyards were abandoned and the old vines of indigenous varieties were surrendered to nature. Antoine wanted to save and protect these iconic vines, so he took cuttings of them and planted them in a single plot on his own estate, Domaine Comte Abbatucci – in the southern part of Corisca just southeast of the capital. By 1962, there were eighteen indigenous varieties flourishing in the vineyard. His son, Jean-Charles Abbatucci, now heads the estate and continues his father's legacy of protecting Corsica's vinicultural heritage and blending native varieties into superbly pure and innovative wines.
Respecting Indigenous Varieties with Biodynamic Practices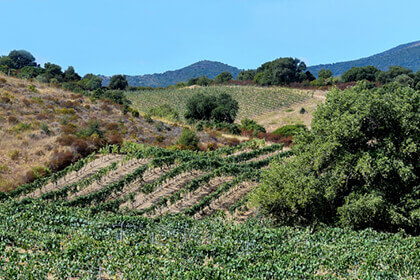 The estate is in the heart of the beautifully scenic Taravo Valley at 100 meters above sea level with some of the oldest vineyards on the island. The 18-hectare estate grows in well-drained, granite-sandy soil. Growing in these soils in the valley, you can find maquis – a dense congregation of wild shrubs that covers one-fifth of the island. This maquis is highly aromatic with scents coming from juniper, lavender, mint, rosemary, thyme, and many others. It is no surprise that this maquis plays a role in influencing the character of the domaine's wines. Another influence over these vineyards are the different winds like the Mistral, North African Sirocco, and Libeccio that all crisscross the island. All their blowing can suck out the moisture from grapes, and this lack of moisture can concentrate their sugars and flavours. You then get these beautifully ripe, developed flavours in the estate's wines. The winds also help dry up the vineyards after the frequent and often unexpected rains, so this helps keep the vines and grape bunches free from viruses and diseases.
The red grape varieties that are the backbone of the Domaine Comte Abbatucci's vineyards are the island's symbolic Nielluccio (pronounced knee-el-loo-cho) and Sciaccarello (pronounced sha-ka-REL-loo). They're both indigenous, and are a great source of pride for the island. Niellucciu comes from the Corsican word for 'black and dry', and it's related to Tuscany's emblematic Sangiovese. It's no surprise that Niellucciu offers robustness and tannic qualities like its close cousin. Sciaccarellu, however, has the reputation as a 'Corsican Pinot Noir' because of its elegance and complexity. These wines age well due to their higher acidity. Although not indigenous, Vermentino is the main white variety growing in the vineyards, and it gives lively, voluminous and mineral wines. In total, there are eighteen unique varieties!
With this beautiful terroir and these distinctive varieties, Domaine Comte Abbatucci uses biodynamic viticulture. Since 2000, it has successfully brought together Corsican tradition with modernity through biodynamic practices. These help to produce the healthiest grapes and to preserve the specific flavours of the Corsican terroir. One of the key tenets the estate practices is to allow the natural regeneration of its vineyard environment and soils. To do this, the domain applies herbal and mineral preparations for the soils, and allows its sheep to graze as a type of natural grass management. In addition, grapes are carefully hand-harvested and only indigenous yeasts are used in winemaking. These methods are meticulously planned out so that they correspond to lunar cycles and the time of day. All of these practices give wines that embody Corsica's essence and bring forth the island's symbolic maquis aromas.
The Superbly Pure and Innovative Wines from Domaine Comte Abbatucci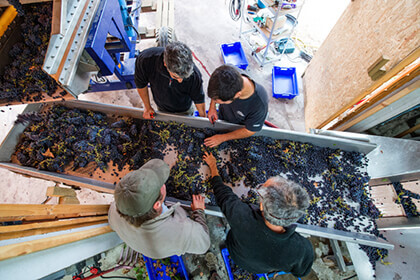 Domaine Comte Abbatucci offers an exceptional range of superbly pure and innovative wines that include rosé, sparkling, red and white wines. It's interesting to note that the estate's range fall under the Vin de France classification. This by no means takes away any of the quality in the wines. Rather, Jean-Charles Abbatucci actually renounced AOC status for his wines. The reason is that the island's main appellation Corse AOC regulates that its white wines must consist of 75 percent Vermentino and the reds must have a minimum of 50 percent Nielluccio and Sciaccarello. Furthermore, the rules limited many of his native varieties to no more than 10 percent in the blend. Abbatucci had fought for Corsican varieties to be included in the AOC, but he felt they deserved to play a larger role in the blends. Finding the system too restrictive, Abbatucci left the AOC so that he could have more freedom to promote and support his island's traditions and varieties.
The Faustine Rouge is among one of their most distinctive wines consisting of a blend of the island's two main red varieties Sciaccarello and Nielluccio. You're first mesmerized with its cherry colour and then enchanted with the maquis wild berry and peppery notes. Another impressive red is the Ministre Impérial that is a blend of seven indigenous varieties with Sciaccarello and Nielluccio as the usual suspects, along with Morescola, Morescono, Montanaccia, Carcajolo Nero and Aléatico as their partners. The wine reveals a beautiful black cherry colour, and exhudes black and red current aromas with smoky scents. The elegant fine-grained tannins and mineral notes extend to give a persistent finish. Among the delightful white wines, the Faustine Blanc stands out as a 100 percent varietal wine from Vermentino. This fresh, aromatic wine captivates you with its pale yellow colour and overflows with endless aniseed, white flower and mineral notes. Last but not least of Domaine Comte Abbatucci's outstanding range is the Général de la Révolution. It's a magnificent tribute to six of Corsica's white varieties: Vermentino, Rossola Brandinca, Riminese, Carcajolo Bianco, Biancone, and Paga Debiti. The pale yellow colour enchants and then the incredibly aromatic bouquet offers white fruit, citrus and mineral notes. The palate is perfectly balanced with refreshing acidity and fruit concentration with additional hints of subtle oak and mineral notes. No matter the moment, any one of the exceptional wines from Domaine Comte Abbatucci will offer a truly unforgettable moment.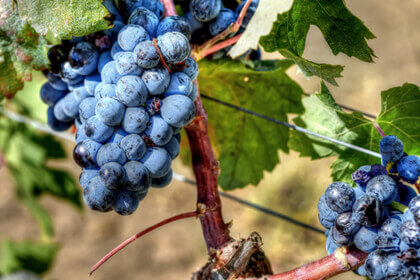 Domaine Comte Abbatucci's dedication to preserving Corsica's indigenous varieties and its commitment to biodynamic viticulture brings forth the most superbly pure and distinctive wines overflowing with all of the island's personality and beauty.